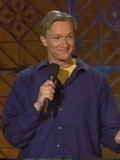 Tim Rykert
Stand-up Comedian
ShareAdd To My FavoritesPrint Profile
Why Wait?
If you are interested in me for your event send a message.
Find out my availability, price, and additional information to help you decide.
Send Message
Profile
Smooth talking, audience-pleasing comedian Tim Rykert, was born and raised in Toronto, where he began his comedy career in 1990. Tim quickly became one Canada's most sought after comedy performers. Tim is a classic television quality stand-up comic. No props, no juggling, no cheap toilet humour, just brilliant, hilarious observations about the world we live in. Known for his clean, clever, high brow material, Tim's act has taken him around the world as a headliner of comedy clubs, festivals, cruise ships, and corporate events. Tim Rykert's take on topics like world travel, politics, current events and popular culture have been winning rave revues and filling rooms with side splitting laughter for many years. Tim now lives in Vancouver, B.C. Tim continues to work on television projects and performs at comedy clubs, festivals and corporate events around the world. An experienced professional, Tim Rykert is fully capable of tailoring his act to meet your functions specific needs.