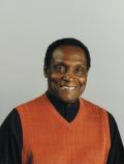 George Reed
CFL Hall of Famer
ShareAdd To My FavoritesPrint Profile
Why Wait?
If you are interested in me for your event send a message.
Find out my availability, price, and additional information to help you decide.
Send Message
Profile
Hall of Famer George Reed is known as the all-time greatest fullback in the Canadian Football League (CFL) George Reed, played for the Saskatchewan Roughriders for 13 seasons from the time he joined them in 1963 until his voluntary retirement in May of 1976. His early football career started at the junior high school level in Renton, Washington, and continued on through college at Washington State University. He played both fullback and linebacker on the varsity football team. He graduated in 1963 with a Bachelor of Science Degree in Education. In the fall that same graduating year, George came to Canada to play professional football with the Saskatchewan Roughriders. Since becoming a professional at age 21, George has amassed not only the respect of fans everywhere, but, numerous awards, records and notable career highlights. George's jersey #34 is permanently retired in the Canadian Football League Hall of Fame.
Awards and Designations
Schenley Award (for most outstanding player in the CFL) – 1965 and was runner up for the award – 1968 and 1969
Tom Pate Memorial Trophy (for outstanding sportsmanship, a contribution to his team, his community, and to the Players Association) – 1976
Order of Canada Medal – 1978
Career Highlights
Participated in four Grey Cup games including the 1966 victory over the Ottawa Rough Riders
Led CFL in rushing for nine seasons
Gained over 1,000 yards 11 times during his 13 year career
Was named as All-Canadian Running Back for nine seasons
Was named to the Western Conference All-Star team 11 times
Was a member of five consecutive All-Star Games teams from 1970-1974
Was Saskatchewan Roughriders team captain for 8 years of his 13 year playing career
Inducted into the Saskatchewan Sports Hall of Fame – 1979
Inducted into the CFL Hall of Fame – 1979
Inducted into the State of Washington Hall of Fame – 1983
Inducted into the Canadian Sports Hall of Fame – 1984
Past president of Saskatchewan Sports Hall of Fame
Past president of CFL Players Association – 1972-1980 and 1986-1995
Established George Reed Foundation for the Handicapped – 1974
Received an honorary Doctor of Laws Degree from the University of Regina for his outstanding contribution to the advancement of disabled people within society – 1981
Board of Trustee for Washington State University – 1996 to present
Career Records
Most yards gained while rushing (16,116 yards)
Most touchdowns by rushing (134)
Most touchdowns scored (137)