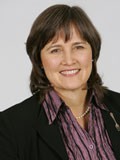 Elaine Froese
Catalyst for Courageous Conversations. Your Farm, Your Family, Your Choice
ShareAdd To My FavoritesPrint Profile
Why Wait?
If you are interested in me for your event send a message.
Find out my availability, price, and additional information to help you decide.
Send Message
Profile
Elaine Froese is an expert in helping family businesses talk about tough issues. She's a catalyst for courageous conversations for positive farm succession planning.
Like many of her clients, Elaine is an active farmer and she watches the sky. Her common sense and down to earth style of communicating and asking hard questions is deeply appreciated by folks who find it hard to ask for help.
Farm Family Coach Elaine Froese (pronounced phrase) is sought after across the country for her expertise in helping farm families get unstuck. She has worked with families in business for over 20 years and is now coaching the next generation.
Elaine is a professional certified coach from the Hudson Institute of Santa Barbara. She holds a Conflict Resolution Certificate from Mediation Services, mediating for the Farm Debt Mediation Service. She earned her degree as a professional home economist from the University of Manitoba.
She listens and coaches in the sacred space of family business meetings and inspires new scenarios for people of all ages.
Elaine believes that change is an opportunity, not a threat'she has practical tools to help people discuss the undiscussabull to make their dreams come true.
Published Author She is the author of the award winning book Planting the Seed of Hope: A Celebration of Prairie Life. Some of you have been following her column in Grainews, which she has been writing for over 13 years.
Succession Planning Expert As a former extension home economist and now as a succession expert, Elaine is wired to help agricultural families in transition. She farms in southwestern Manitoba, and enjoys hikes, camping, watercolours, and watching the prairie sky. Like you, Elaine understands agriculture, and she wants a happy family.
Keynotes and Speaking Topics
Discuss the Undiscussabull': Tools for Talking about Tough Issues in Farm Transfer Conflict is a normal part of farm family business, especially with farm succession planning. Avoiding conflict keeps farm families stuck, unable to improve their business and family life. A Virginia Tech study of 400 farms found that those farm family businesses that could communicate were 21% more profitable. In this revealing presentation, Elaine gives you the tools and strategies you need to improve communication within your farm family.
Planning for Change: The Cycle of Renewal You love farming and you never plan to really quit. Your spouse has other ideas. You are both in different stages of the cycle of renewal, but don't know it. Your adult children want you to move to town. What are you going to do? Nothing? That doesn't feel very good! Elaine shows you how to plan for change, let go and take on new plans.
Who Wants the Farm… and When?: Farm Succession Planning Tools for Action Farming dads need to transfer control and ownership (eventually) to younger farmers. If there is no successor, then what? If there is a keen successor'congratulations! What do young farmers want? They want certainty of ownership, and a plan with deadlines. They want the farm intact. What do older founding farmers want ? To be useful and appreciated. Fairness. They want an income stream for their lifestyle needs. Discover ways to get certainty about everyone's future and income in this exciting and educational presentation.
Living an Intentional Life: Balance in a Complex World Folks are tired and overloaded. They think self care is selfish. Too many roles and too little time. Where did the fun go ? Elaine is an active farm partner with off-farm demands, just like you. She's experienced a serious health issue which makes her passionate and practical about being intentional, not 'busy' and she shares with you her story and strategies for living a balanced life.
The Gift of Encouragement: Encouraging the Heart of Your BusinessLack of appreciation is one of the top key reasons farm succession planning fails or is blocked. Farm families need a strong emotional bank account and huge relational capital, not just net worth. Each generation needs to feel their work counts. In this presentation you'll discover family leadership skills to strengthen your business and your family.
Books and Articles
Planting the Seed of Hope: A Celebration of Prairie Life
Do the Tough Things Right… how to prevent communication disasters in family business.
Grainews – Column for 13 years.