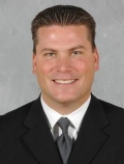 Craig Simpson
Three time Stanley Cup Champion & Keynote Speaker
ShareAdd To My FavoritesPrint Profile
Why Wait?
If you are interested in me for your event send a message.
Find out my availability, price, and additional information to help you decide.
Send Message
Profile
Craig Simpson launched his hockey career with the hometown Junior B London Diamonds before making the leap to Michigan State University. There, he played two strong seasons and soon found himself selected 2nd overall in the 1985 Entry Draft by the Pittsburgh Penguins. With the Pens, Craig Simpson made steady progress during his two and a half-year stay, but the club itself faltered. With their eyes on defenseman Paul Coffey as tonic, the Pens sent Simpson among others to Edmonton just in time to plunge into the "Battle of Alberta" the cross-provincial rivalry that spewed volcanic dust between the Oilers and Flames. In the transition, Simpson thought he had died and went to hockey heaven. He promptly received tutelage from his idol, Wayne Gretzky, and, rather than languish on a third or fourth line, was tossed on left wing with Mark Messier and Glenn Anderson. Simpson's numbers exploded. By season's end he'd scored a career-high 56 goals. Better yet, he won his first of two Stanley Cups that year. Craig Simpson had the good fortune to savour another league championship in 1990, this time minus their team leader, Wayne Gretzky. Simpson sustained his Oilers career for three additional seasons before rounding out his NHL days with the Buffalo Sabres. In the end, chronic back trouble forced him into retirement at age 28.
Career Highlights
Stanley Cup Champion – three times