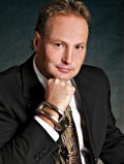 Dean Gunnarson
Escape Or Die (reality t.v. show), World's Greatest Escape Artist
ShareAdd To My FavoritesPrint Profile
Why Wait?
If you are interested in me for your event send a message.
Find out my availability, price, and additional information to help you decide.
Send Message
Profile
Dean Gunnarson is the star of OLN Network's "Escape or Die" t.v. series. Dean's unique and entertaining style is best described as a cross between Harry Houdini and Evel Knievel. Dean has performed worldwide with his blend of comedy, audience participation and heart-stopping, edge of your seat entertainment.
Dean Gunnarson has achieved new heights as an escape artist. Whether he is dangling by his toes from a trapeze bar 726 feet over Hoover Dam in Las Vegas or opening for legendary bands like Aerosmith; Dean is always setting new records. He has successfully conquered many challenges and obstacles by taking his daring escapes to incredible limits. One of his most recent television specials, "World's Most Dangerous
Magic II" on N.B.C., Gunnarson faced his greatest fear as he escaped suspended upside down over a swamp of 130 hungry alligators in the Florida everglades covered in chicken meat and blood.
Dean has traveled from the Great Wall of China to the ancient Pyramids of Egypt, the Glaziers of Iceland & the Amazon rain forest of South America, Niagara Falls, Hoover Dam to the bright lights of Las Vegas & from Hollywood to Nashville to Broadway. Dean has performed from one end of this Earth to the other! He has traveled around the world entertaining people with his unique style of escaping, while always putting wonder or laughter on people's faces.
Dean has been proclaimed "The World's Greatest Escape Artist" by winning "The Houdini Award" on the "Magic Stars" television show in Tokyo, Japan. It officially recognized what the world has known for many years, Dean is the "World's Greatest Escape Artist". Dean received the award from Tony Curtis, who played Houdini in the 1953 movie. The Houdini Award is only one recent highlight in an internationally acclaimed career that has showcased Dean's talents to millions of people around the world.
Notable Escapes
Dean first captured the attention of an international audience on Halloween night in 1987 when he performed one of the most daring escapes of all time, "Houdini's Milk Can Escape". The escape was recreated for the live television special "In Search for Houdini". Following the escape, Johnny Carson described the performance to his tonight show audience as "incredible". That fateful night launched Dean's International career, endearing him to people of all ages around the world.
For the N.B.C. Special, "Magic In The Magic Kingdom," Dean delighted crowds in Disneyland and across North America with his Shark Cage Escape.
NBC's Worlds Most Dangerous Magic - "Challenge at Hoover Dam". This time, the inverted Dean must place his feet over the top of a trapeze bar and remain as still as possible while extricating himself from a straitjacket, 726 feet over the gorge of the Hoover Dam.
NBC's Worlds Most Dangerous Magic II - "Gator Bait" in which straitjacketed escape artist, Dean Gunnarson, hangs by his toes over a pit filled with hungry alligators.
Aerosmith's CD Release Party - At the Manhattan Centre in New York City, Dean Gunnarson faced one of his greatest challenges to date surviving an escape never before attempted. Before Aerosmith took to the stage, and to the hit single "Crash" from their new album, "9 Lives," Dean Gunnarson's manacled and chain bound body was suspended upside down, hovering precariously above a sea of spikes. The rope to which his ankles were fixed was promptly set on fire and the death-defying escape ensued before a frenzied crowd. Attendees to this unprecedented event were as out of control as the flames that devoured the rope, at the end of which Dean Gunnarson was thrashing to Aerosmith's driving beat
One of Dean's most venturous escapes was filmed for a Japanese television special to mark the 500th episode of "Naruhudo! The World." While free falling from an airplane 13,500 feet above the earth, Dean escaped from a straight jacket and two pairs of handcuffs before parachuting to safety with only six seconds to spare!
Dean has surpassed Houdini with numerous escapes, establishing his career as an original Escape Artist. He conceived the unique "Car Crusher Escape" for the television show "The Spectacular World of Guinness Records," hosted by David Frost.
His exploits have gained international media attention, including the front page of the Bangkok newspaper for an escape suspended from a burning rope in downtown Bangkok, Thailand.
In India over 65,000 people came just to witness one of his amazing escapes.
In Egypt, the Cairo stadium was filled with 100,000 cheering people watching Dean Gunnarson escape!
Keynote
Escape from Fear
Dean Gunnarson has taken his vast experiences as an escape artist traveling around the world achieving the impossible and created a series of motivational presentations. People eagerly sit and listen to the lessons and techniques that he has learned from years of escaping. Dangling over man-eating alligators, locked in shark cages underwater, hanging by his toes 726 feet over Hoover Dam in Las Vegas , thrown out of airplanes chained and handcuffed at 13,000 feet or crushed in a car, are a few of the amazing escapes he talks about. Why does Dean do these things? Is he afraid? What does his mother think? You won't find out the secrets of his escapes, but you will leave knowing things that are even more important to you!
Learn how to use the techniques of visualization in overcoming your daily fears. Learn the best technique for preparing for meetings, addressing an audience or even a school presentation. Dean will inspire and teach you ways of improving your future in ways you never imagined. See how your audience gets motivated to achieve the impossible in their daily lives. Dean gives them the courage, hope, determination and the skills to believe in themselves no matter who they are or where they have come from. He uses many personal examples of overcoming huge obstacles in his life and doing things that people said could not be done!
Dean Gunnarson's personal story is even more amazing than his greatest of escapes. Get up close and personal with a truly unique individual that has overcome cancer, escaped death while trapped inside a coffin underwater, and is dealing with the loss of two fingers when his right hand was crushed in a near-fatal car crash. Dean has several motivational presentations he can do which can be combined with a live demonstration and/or video footage of some of his most incredible escapes. He will personally construct each presentation to fit in the time required and to the audience, he is speaking with. Dean is currently writing a book that will be a motivational autobiography. The book is due to be released later this year.
Escape Or Die T.V Series Link