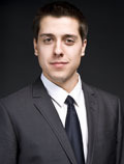 Sheldon Casavant
Award Winning Comedy Magician. Nominated Entertainer of the Year.
ShareAdd To My FavoritesPrint Profile
Why Wait?
If you are interested in me for your event send a message.
Find out my availability, price, and additional information to help you decide.
Send Message
Profile
Sheldon Casavant is a dynamic entertainer of remarkable skill and versatility. He has developed into one of Canada's most promising
performers in the field of magic and illusion. Sheldon is a multiple award winner for both his close-up and stage performances. In 2003, the Society of American Magicians presented Sheldon with the coveted Genii Award 'in recognition of great potential shown in a winning personality and performance in the field of the Magical Arts.' Most recently, Sheldon was nominated as 'Entertainer of the Year' by the 2009 Canadian Events Industry Awards. From intimate gatherings to audiences in excess of 25,000 people, Sheldon's
contemporary style of magic has been appreciated around the world. Sheldon has entertained across Canada, the United States, Mexico, Panama, China, and recently returned from performing over 630 shows in Japan.
Sheldon's 'interactive magic stage show' is a hit wherever he performs. From corporate banquets to international stages, Sheldon's contemporary style has been appreciated around the world.
Sheldon's stage show packs small and plays BIG. It is designed to travel with ease and requires very few staging requirements. The show is a high energy blend of sophisticated magic and hilarious, yet tasteful audience participation.
Sheldon's 'Large Scale Illusion Show' is not your standard illusion show… there are no sparkly costumes or cheesy dance numbers. Instead, Sheldon's non-traditional approach combines current and funky music with magic to create a new style of non-clich' illusion. Sheldon has teamed up with some of the industry's top
talents to make magic appealing to today's audiences. With custom music compositions, state-of-the-art illusions, and a careful attention to detail, Sheldon's illusion show is at the top of its game.
Sheldon's 'close-up magic' is the perfect entertainment for any occasion where your goal is to put your guests at ease and create a
welcoming and fun atmosphere. Close-up magic requires the highest level of skill and dexterity… since the audience is only inches
away. Rest assured… Sheldon is a multiple award winner for his close-up magic, and his sleight of hand miracles can be performed anywhere, anytime, and under any situation. Whether roving during a corporate hospitality event or performing from table to table at a dinner banquet, Sheldon works the crowd with his lighthearted
conjuring deceptions. Sheldon's close-up magic is sure to leave your guest amazed.
Awards and Designations
Society of American Magicians presented Sheldon with the coveted Genii Award 'in recognition of great potential shown in a winning personality and performance in the field of the Magical Arts.' – 2003
Nominated as 'Entertainer of the Year' by the 2009 Canadian Events Industry Awards