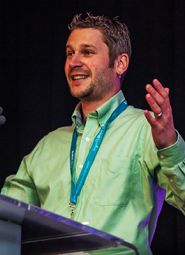 Allan Kehler
Out From The Shadows
ShareAdd To My FavoritesPrint Profile
Why Wait?
If you are interested in me for your event send a message.
Find out my availability, price, and additional information to help you decide.
Send Message
Profile
Allan Kehler is a highly sought-after keynote speaker who empowers his audience to live opposed to merely exist. Allan has conducted hundreds of presentations while gaining national attention for his engaging style and captivating approach.

Allan spent a significant amount of his life persevering through mental health issues and addictions. On the outside, people saw the man who was president of his school, athlete of the year, and national scholarship winner. However, on the inside was a man who was in pain. A university professor saw beneath the mask and changed Allan's life through a simple process. Allan shares this approach in his message and reassures his audience that nobody needs to be fixed. Rather, the value of being seen and heard is immeasurable. Allan's personal and professional experiences have taught him valuable life lessons that have guided him on a path of success. His commitment and understandings to the lifelong process of truly living enable Allan to equip audiences with invaluable tools.

Allan has spent years working as an addictions counsellor, clinical case manager, and instructor at several colleges. His writing has been published in many national magazines, and his books can be found in treatment centers, classrooms, and workplaces across Canada. Allan has also been featured on several television and radio programs.
Keynotes
Smiling on the Outside, Crying on the Inside .... Where Do I Turn?
Countless employees remain silent about their personal challenges because they fear judgement, or that the disclosure of their personal struggles may prevent them from moving up the company ladder. A smile can appear on the outside while they are crying on the inside. For years, this was Allan.

There are also those who have great intentions of assisting people who are struggling with addictions or mental health issues. Sadly, many are afraid of doing or saying the wrong thing. Allan reveals how to respectfully approach employees who are displaying signs of stress, distraction or substance abuse.
A proactive approach will lead to the reductions in risk, fewer injuries/accidents and an increased amount of employee loyalty. When relationships between the employer and employee are based on trust and respect, team morale will naturally strengthen. Allan believes that the workplace environment should be free from judgment; where compassion replaces stigma.
Goodbye, Stress, Hello Life. This is Your Journey!
We live in a fast-paced society with a seemingly endless list of demands. Countless individuals struggle to find a balance between work and their personal lives. For many, work has been reported to be their main source of stress. High levels of stress affect an individual's mood, productivity and work attendance. This, in turn, affects the workplace as a whole by creating stress and tension between co-workers, and lowering overall team morale.

Life will naturally bring us challenges and stress – the key is moving forward so that it doesn't impact other areas of our lives. Drawing from personal and professional experiences, Allan provides direction that inspires individuals to persevere through their personal challenges rather than avoid or escape them. He challenges people to take an honest look at what lies beneath their pain and provides the tools to heal through a holistic approach. This is YOUR journey, and Allan empowers you to return to the journey that they were meant to lead.

Allan ensures that all participants walk away with an increased understanding of stress and the impact that it has on the workplace. The workplace can be transformed into a healthy, supportive, and safe environment that encourages individuals to acknowledge their challenges, and move forward in a healthy way.
It Takes A Village to Raise a Child
The issues of addictions, mental health, and suicide do not only impact individuals and families, but also entire communities. Allan is frequently asked to present in communities after tragedy has struck, and people are left uncertain where to turn. Information truly is power. Allan provides a deeper understanding of these prevalent issues while sharing a proactive approach. Despite often exhausting ourselves trying to control others, the reality is that all we can control in this world is self. Therefore, it is important to focus on what is in our control. This process allows us to take our power back, and get back on the journey that we were meant to lead.
Workshops
Addressing Substance Abuse in the Workplace
Managing Stress, Mental Illness, and Substance Abuse in the Workplace