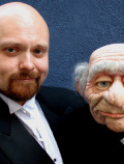 Damien James
Awarded 'Ventriloquist of the Year' Title
ShareAdd To My FavoritesPrint Profile
Why Wait?
If you are interested in me for your event send a message.
Find out my availability, price, and additional information to help you decide.
Send Message
Profile
Damien James has been performing professionally since the age of 12. Damien James's first public show was performing at his own seventh birthday party. It was an experience that made young Damien James want to become a professional performer. Later that same year, Damien James received a Tommy Talker pull-string dummy from the Sears Christmas catalogue. A present his parents (or Santa Claus) regret to this day. Currently, Damien James has performed clean comedy at corporate and convention events all over Canada and has won many major awards for his excellence in performance. Damien James is formally trained in both ventriloquism and magic.
Stage Appearances With
Colin James
Michelle Wright
George Fox
Farmer's Daughter
Awards and Designations
USA's Magic Capitol – Ventriloquist of the Year
Pacific Coast Association of Magician's Pro Challenge – Gold Medal Winner
YTV Youth Achievement Award – National Finalist