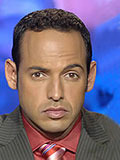 Shaun Majumder
Star of 'This Hour Has 22 Minutes', Award Winning Comedian
ShareAdd To My FavoritesPrint Profile
Why Wait?
If you are interested in me for your event send a message.
Find out my availability, price, and additional information to help you decide.
Send Message
Profile
Majumder's material is slice-of-life. He refers to everything from his family to holidays or goes completely alternative with free-form association. His greatest weapon so far is his physical work. He has an outstanding range and is adroit at creating intriguing characters and playing them off each other. Shaun takes his time on stage and doesn't rush his punch lines. He allows the audience to follow his lead. Born and raised in Newfoundland, Shaun began his career on the stages of the famous Second City and comedy clubs across the country. Shaun was a member of the famous sketch comedy group The Bob Room. His clever unique style of comedy earned him his very own one-hour comedy special on The Comedy Network called On the Edge with Shaun Majumder, earning him a Gemini nomination. His second Gemini nomination was for the Halifax Comedy Festival. In 2002 he received the Canadian Comedy Award for 'Pretty Funny Stand Up'. Shaun's television appearances include CBS's The Late Late Show with Craig Kilbornand Comedy Central's Premium Blend. His feature film credits include Harold & Kumar, Ladies Man, Pushing Tin and Purpose. Shaun is proud and honored to have joined the prestigious list of comedians who have performed at the renowned Just For Laughs Comedy Festival in Montreal. As well he has hosted numerous CBC Just For Laughs Television Specials. He has also appeared as a series regular on Cedric The Entertainer Presents for FOX Television. Shaun has recently completed a number of projects including Host of the Just for Laughs Comedy Fest for CBC Television and co-starring with Mary Walsh in Hatching, Matching and Dispatching a six-part comedy series scheduled to broadcast on CBC Television in January of 2006.
Notable Live Appearances
Montreal's Just For Laughs International Comedy Festival
Halifax Comedy Festival
Winnipeg Comedy Festival
Career Highlights
Winner of Canadian Comedy Award for 'Pretty Funny Stand Up'
Nominated for two Gemini Awards