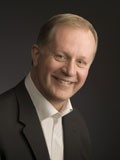 David Saxby
Professional speaker on: Marketing and Sales; Creativity and Innovation; Presentation Skills.
ShareAdd To My FavoritesPrint Profile
Why Wait?
If you are interested in me for your event send a message.
Find out my availability, price, and additional information to help you decide.
Send Message
Profile
David Saxby, President of Spark Communications Inc. is an international speaker and trainer and a sales and marketing consultant with over 30 years experience. David's first company grew from one man to a full service advertising agency in less than two years. He followed that success with a company he nurtured through a major recession and grew into one of Western Canada's leading marketing communication firms.
David delivers thought-provoking and inspiring presentations that provide insight into how individuals, teams and organizations can ignite innovation and achieve unparalleled success in their marketplace. He combines hard-learned lessons from his experiences in the marketing and advertising world with his deep knowledge-base as a visionary business leader.
David knows how to connect with audiences. He inspires, motivates and challenges people to look beyond the status quo and to seek answers outside their comfort zones.
As a consultant David facilitates the innovation process by helping clients discover their unique talents and business value. He shows them how to find creative solutions, and to identify new sources of business through utilizing innovative marketing and sales approaches. He has worked with a wide range of industries including: beverage and liquor, communications, land development, real estate and construction, media and marketing, education, professional services (legal, medical, financial) as well as the small business sectors.
Keynotes and Speaking Topics
Ignite Innovation -The Art of Turning Ideas Into Action What sparks individuals to achieve the extraordinary? What compels
people to recognize their true potential and inspires them to take action? Innovative thinking is the heart of every individuals' and organizations' success. You, your co-workers and your clients, often have great ideas, how can you grow them, harvest and implement the best ones?
Marketing in the New Millennium: Integrating Social Media Marketing Into Your Marketing Plan Web 2.0 and the new wave of marketing have enticed many organizations into abandoning promotional methods that worked in the past, in favour of the new 'Social Media'. As a result many organizations have failed to market themselves effectively. Learn how you can leverage the viral power of the internet and social media integrating social media with your current marketing and public relations to build deeper relationships with your prospects and customers.
The Integrated Approach to Sales and Marketing What do successful marketers do to create 'Brand' recognition in our over- communicated marketplace? What 'actionable strategies' do you need to develop promotions to ignite powerful responses with your customers?
Ignite Your Sales Results What does every successful organization do to inspire their sales teams to succeed with every customer contact? How do you motivate your sales team to attain excellence in prospecting, overcome their fear of cold calling and increase their closing ratios?
Building Strategic Alliances to Promote Your Brand What can you do to take advantage of one of the fastest growing trends in business today? How can Strategic Alliances promote your brand and increase your marketshare?
Add Spark to Your Presentations What does every powerful presenter do to challenge, inspire and motivate their audience? What are the keys to emotionally and intellectually connect with every audience?
Books and Articles
Sales Gurus Speak Out – Essential information, proven expertise and warrior wisdom of fifteen expert sales trainers, coaches and consultants!
Customer Service Goldmine – Increase Your Profits! Motivate Your Employees! Turn Your Prospects Into Lifetime Super-Customers!