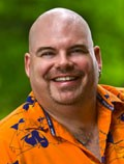 Tazz (a.k.a. Big Daddy Tazz)
Stand-up Comedian
ShareAdd To My FavoritesPrint Profile
Why Wait?
If you are interested in me for your event send a message.
Find out my availability, price, and additional information to help you decide.
Send Message
Profile
Big Daddy Tazz uses his blazing quick wit, clean comedy improv style, natural ability to make people laugh, and amazing stage presence to bring his corporate and convention audiences first to their knees with laughter and than to their feet with thunderous praise and adulation. Big Daddy Tazz takes a mundane event and turns it into a sidesplitting clean comedy story. Big Daddy Tazz tells a story with incredible facial expressions, body language, and character voices that lead to a KABOOM! of audience laughter and applause. Big Daddy Tazz is just plain honest to goodnes fun for corporate and convention events that require clean comedy!
Television / Film / Radio
Madly Off In All Directions – CBC Radio
CTV Rough Cuts "Stand Up Samurais"
CBC One Night Stand
CBC Fringe Report
Global TV Fringe Reports
Star TV "We're In The Funny, FunnyFest"
Star TV "We're In The Funny, Just For Laughs"
Notable Live Appearances
Just for Laughs International Comedy Festival – Montreal
Career Highlights
April 1, 2008 – set new record for "continuous uninterupped standup" – 8.5 hours. Smashing previous record held by Dane Cook at 7 hours.