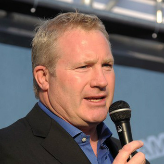 Marty McSorley
NHL 1983-2000
ShareAdd To My FavoritesPrint Profile
Why Wait?
If you are interested in me for your event send a message.
Find out my availability, price, and additional information to help you decide.
Send Message
Profile
Marty McSorley played in the National Hockey League from 1983 until 2000. A versatile player, he was able to play both the forward and defense positions.
He made his NHL debut in October 1983 with the Pittsburgh Penguins, but rose to fame after a trade in September 1985 brought him to the Edmonton Oilers. His arrival and physical presence soon made Edmonton's incumbent enforcer Dave Semenko expendable, and McSorley inherited the title of "Wayne Gretzky's bodyguard".
This title would follow him to Los Angeles in 1988, when both he and Gretzky - along with Mike Krushelnyski - were obtained by the Kings. With the Kings, McSorley's bruising style made him a fan favorite; but he strove to improve his game beyond being primarily known as an enforcer, earning great respect around the league for his hard work ethic, his fine team play, and his articulate intelligence off the ice.
Marty is also a former head coach of the Springfield Falcons of the American Hockey League (2002–2004). In addition to his hockey career, he has also worked as an actor, appearing in several film and television roles: Bad Boys (1995), Forget Paris (1995), Con Air (1997) and Trading Favors (1997). He also appeared in one episode of CSI: Miami in 2005 as the infamous rink manager Andrew Greven. McSorley guest starred on ABC Family's Greek as himself playing a hockey goaltender. He was featured as one of the pros on Pros vs Joes on Spike TV.
McSorley is currently a TV analyst for Sportsnet and occasionally Hockey Night in Canada. He is a regular at the Staples Center during Kings hockey games.
Teams
Pittsburgh Penguins (1983–1985)
Edmonton Oilers (1985–1988)
Los Angeles Kings (1989–1993)
Pittsburgh Penguins (1993–1994)
Los Angeles Kings (1994–1996)
New York Rangers (1996)
San Jose Sharks (1996–1998)
Edmonton Oilers (1998–1999)
Boston Bruins (1999–2000)