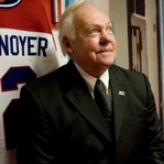 Yvan 'The Roadrunner' Cournoyer
10 Time Stanley Cup Champion. NHL Hockey Hall of Fame
ShareAdd To My FavoritesPrint Profile
Why Wait?
If you are interested in me for your event send a message.
Find out my availability, price, and additional information to help you decide.
Send Message
Profile
Small but fast and flashy, Yvan Cournoyer joined the Montreal Canadiens in 1964 after only five games in the minor leagues and quickly became one of the most feared scorers in hockey. In Yvan Cournoyer's first season, other teams often intimidated him with rough play, but he took boxing lessons during the off season and could no longer be bullied. Even so, one of the most amazing statistics of this former Captain's career is that Yvan Cournoyer averaged only 17 penalty minutes per season during his entire career. Particularly dangerous on the power play because of his puck-handling ability, Yvan Cournoyer won the Conn Smythe Trophy as the most valuable player in the playoffs in 1973, when he scored 15 goals in Stanley Cup competition, including the goal that beat the St. Louis Blues in the final game. In 16 seasons, all with the Canadiens, Yvan Cournoyer scored 428 goals and had 435 assists for a total of 863 points in 968 regular season games. Yvan Cournoyer added 64 goals and 63 assists in 147 playoff games. Yvan Cournoyer's name is engraved on Lord Stanley's Cup 10 times.
Awards and Designations
Conn Smythe Trophy (Most Valuable Player in Playoffs) – 1973
Career Highlights
Won 10 Stanley Cup Championships with Montreal's Canadiens
All-star team appearances – 1967, 1971, 1972, 1973, 1974, 1978
Inducted into Hockey's Hall of Fame – 1982