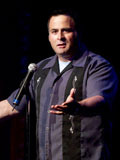 Cris Nannarone
Host of 'Best in Chow', Stand-up Comedian
ShareAdd To My FavoritesPrint Profile
Why Wait?
If you are interested in me for your event send a message.
Find out my availability, price, and additional information to help you decide.
Send Message
Profile
Cris Nannarone's style is Traditional Stand-up, a Microphone, and an Audience (no shiny stuff). He patterns most of his non-offensive material around his own life, personal experiences, misunderstandings, and confusions. "I exaggerate everything that annoys or confuses me. I don't do much on the opposite sex, they scare me". He is able to paint detailed pictures with his words.
When Cris Nannarone is on stage, you simply cannot take your eyes off him, he commands your attention in the subtlest way, and it feels as though you're listening to an old friend. You can easily see his passion for his craft and his respect for the audience,' I never talk down to my audience, or think that I'm better than they are. I have tremendous respect for anyone who goes out of their way, rushing home from work, making plans to come to a comedy show. I also believe that a comic is only as good as his audience, when they work together, it's "MAGIC".
From 1992 to present Cris toured coast to coast headlining for comedy clubs, made his debut at The Riviera Comedy Club in Las Vegas, made several appearances on the Comedy Network's, Comedy at Club 54, showcased for ABC, NBC, HBO, FOX, CBS, the Comedy Store, and The Improv, showcased at the prestigious Melbourne Comedy Festival in Australia hosted The Miss Hooter's Canada Pageant.
With Ethnic Comedy shows becoming more popular, Cris Nannarone has stretched out again and begun performing bilingually, (English/Italian). He has headlined the annual Montreal Italian Week, The Greco Roman Show and The Italian Comedy Festival Tour, in 2006 Cris was a featured performer at Montreal's Just For Laughs Wise Guys Show, The Montreal Gazzette Called Cris the evening's favorite performer
Over the years Cris has toured extensively working hard at honing his skills at Delivery, Timing and Improvisation, "…Sometimes I have the most fun just interacting and playing with the audience", he says. Spontaneity, rapid-fire, high energy delivery, combined with powerful stage presence, voice, body and facial expressions, along with instant likeability has developed Cris into the 'TOTAL PACKAGE', a Strong, Dependable, Consistent, Crowd Pleasing ENTERTAINER, and one of the best MASTERS of CERIMONIES around.
Cris continues to be in high demand for all kinds of corporate functions. Whether in English or Italian, he delivers time and time again.
Notable Live Appearances
The Riviera Comedy Club – Las Vegas
Stage Appearances With
John Byner
Tommy Chong
Rich Hall
David Brenner
Jimmy Walker