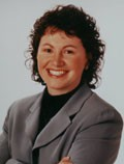 Joan McCusker
Olympic Gold Medalist, Motivational Speaker, Former Teacher B.Ed.
ShareAdd To My FavoritesPrint Profile
Why Wait?
If you are interested in me for your event send a message.
Find out my availability, price, and additional information to help you decide.
Send Message
Profile
Joan McCusker believes it is ordinary people who do extraordinary things. Through her experiences as a teacher, mom, world champion curler, Olympic Gold Medallist and CBC Commentator, Joan has collected a number of observations on the attitudes that propel ordinary people to build extraordinary lives. With a big smile, plenty of humour and tons of Olympic examples, Joan explains the type of attitude and teamwork that builds success in every aspect of life. Her first example is her own journey. Joan was part of a curling foursome that dominated the world of women's curling in the 1990's. With her teammates, Sandra Schmirler, Jan Betker and Marcia Gudereit, Joan won three Canadian and three World Curling Titles in 1993, 1994 and 1997. While balancing young families and careers, the team rallied in the fall of 1997 to win the Canadian Olympic Curling Trials and the right to represent Canada at the Olympics. These victories prepared them well for their greatest achievement: a Gold Medal at the 1998 Winter Olympics in Nagano, Japan! Joan joined the CBC Sports Curling telecast as a commentator in 2001. She continued to curl competitively with Team Betker who placed fourth in Canada in 2003 and in the Canadian Olympic Curling Trials in December, 2005. She resigned her teaching position in 1998 to dedicate more time to being a mom, curler, broadcaster and motivational speaker. Joan's travels have shown her successful people in all walks of life. She sees the parallels of sports psychology and successful strategies used in business, community and family. Joan has plenty of examples of ordinary people doing extraordinary things!!
Her presentation style is light and humourous, but her message is clear.
Keynotes and Speaking Topics
Characteristics of Successful People This is my most requested speech. After years of travelling the world with competitive curling, Joan shares her observations on common characteristics of successful people. The message is clear and the presentation is light and often humorous.
Ordinary People Do Extraordinary Things – Many 'famous' people are very ordinary. They do extraordinary things because of their work ethic, commitment to goals, attitude, use of team, etc.
Building Successful Teams How can we apply sports psychology to the workplace, our communities, our relationships, our lives?? The answer lies in the development of a team perspective. Who is on my side? How can we work better together? Joan develops the principles of successful teams as well as the pitfalls of dysfunctional teams.
Leadership Excellence What does good leadership look like? Joan shows the qualities of great people who find themselves leading.
Winning Attitudes In business, in sport, in life, attitude is everything! Joan gives her interpretation of Dr. Dennis Waitley's Olympic Attitude Rings. Many examples are drawn from Joan's experiences as an athlete, teacher and mom.
Curling Tales – Sports Banquets This category includes celebrity sports dinners or entertainment only type events. Joan relates humorous stories about her team and individual experiences that were had while chasing curling dreams.
Preparing to Win – Athletes in Training This is an athlete/coach/performer specific speech. Joan breaks down the ideal performance into preparation, performance and post performance areas.
High Performance Consulting ' What does high performance look like? Joan facilitates dialogue and makes group presentations on the pursuit of excellence.
Career Highlights
Provincial Champion, 4th place at Canadians (Team Betker) – 2003
Provincial Finalists 1999 and 2002
Inducted into Canadian Sports Hall of Fame – 2000
Olympic Gold Medalist – 1998
JVC – TSN Women's Skins Game Winner – 1998
Canadian Press Team of the Year – 1998
Canadian Sport Awards Female Team of the Year – 1998
Three time Canadian and World Women's Curling Champion – 1993, 1994, 1997 (Team Schmirler)
All Star Team Second at Canadian Championships – 1994, 1995, 1997, 2003
Provincial Mixed Curling Champion – 1992