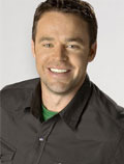 Kelly Taylor
Clean Stand-up Comedy
ShareAdd To My FavoritesPrint Profile
Why Wait?
If you are interested in me for your event send a message.
Find out my availability, price, and additional information to help you decide.
Send Message
Profile
Kelly Taylor is feeling pretty comfortable with his decision to give up his mediocre career in hockey and pursue his dream. Hockey, once the only way a small town Canadian kid could get to the big city; Kelly Taylor now sees the possibilities of comedy taking him all the way to the Alberta border. With the physical attributes of a high school quarterback and the comedic commitment of Jerry Lewis, Kelly Taylor is taking the comedy world by storm. Kelly Taylor shocked the comedy industry by placing second in the prestigious Just for Laughs Homegrown competition. Competing against comics who have been in the business for many years, Kelly Taylor firmly made his mark at Just For Laughs in Montreal. His performance did not go unnoticed as creative heads from NBC Universal, Happy Gilmore Productions and Jimmy Kimmel quickly approached with interest. Aside from Just for Laughs, he has already appeared at The Halifax, Winnipeg, Vancouver and Calgary Comedy Festivals. Kelly has performed all across Canada and recently made his debut in New York City and Los Angeles.
Notable Live Appearances
Just for Laughs – Montreal International Comedy Festival
Halifax Comedy Festival
Winnipeg Comedy Festival
Stage Appearances With