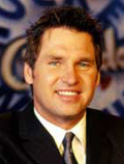 Kelly Hrudey
Former NHL Goaltender, HNIC After Hours
ShareAdd To My FavoritesPrint Profile
Why Wait?
If you are interested in me for your event send a message.
Find out my availability, price, and additional information to help you decide.
Send Message
Profile
Kelly Hrudey became a full-time analyst during the 1998-99 season after providing stellar commentary during the past four-playoff seasons alongside Ron MacLean on CBC's Hockey Night in Canada. During the 1999 NHL playoffs, Kelly Hrudey's segment 'Behind the Mask' became a regular feature.
Kelly Hrudey co-hosts a feature on 'HOCKEY NIGHT IN CANADA ' After Hours'. The show presents a strong interactive component, responses to viewer e-mails and the results of a daily viewer's poll conducted on the Internet.
During his 15 year professional goaltending career with the Islanders (six years), Los Angeles (seven years) and San Jose (two years) Kelly Hrudey compiled a record of 271-265-88 with a goals against average of 3.43, with 16 shutouts.