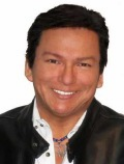 Gerry Barrett
a.k.a The Big Bear
ShareAdd To My FavoritesPrint Profile
Why Wait?
If you are interested in me for your event send a message.
Find out my availability, price, and additional information to help you decide.
Send Message
Profile
Gerry Barrett, a.k.a The Big Bear, is a broadcaster and one of Canada's favorite Aboriginal stand-up comedians. In 2004 he made television history by performing North America's first all Aboriginal stand-up comedy special; CBC's Welcome to Turtle Island. His comedy credits include performances at The Laugh Factory in Hollywood, his own television special Aboriginal Peoples Television Network called The Big Bear Comedy Show, and appearances on First Nations communities across Canada and the US. When he's not on tour with his comedy Gerry "The Big Bear" Barrett is the Morning Host on Manitoba's Aboriginal Radio Network, NCI-FM.
Notable Live Appearances
The Laugh Factory – Hollywood, California