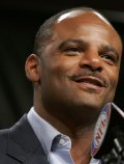 Warren Moon
NFL and CFL Hall of Fame
ShareAdd To My FavoritesPrint Profile
Why Wait?
If you are interested in me for your event send a message.
Find out my availability, price, and additional information to help you decide.
Send Message
Profile
One of the greatest players in professional football history, Warren Moon ranks among the top all-time in nearly every offensive statistical category for quarterbacks. Not including his first six seasons spent playing professionally in Canada, Moon passed for nearly 50,000 yards in 17 NFL seasons including nine Pro Bowl appearances and induction into the NFL and CFL Hall's of Fame (becoming the only player ever to be enshrined by both Halls, also the first undrafted quarterback and the first African-American quarterback to be so honored). Combining his NFL and CFL stats, Moon's numbers are nearly unmatched in professional football annals: 5,357 completions in 9,205 attempts for 70,553 yards and 435 touchdowns.
Despite his collegiate success, Warren Moon went undrafted in the National Football League. Many pundits believe that it was because Moon was black and refused to switch positions – Moon has stated in interviews that before the draft some scouts advised him to switch to tight end. With no takers in the NFL, his only alternative was the CFL Canadian Football League. Warren Moon began his pro career with CFL's Edmonton Eskimos where he helped lead the Eskimos to an unprecedented five consecutive Grey Cup victories in 1978, 1979, 1980, 1981, and 1982. Moon won the offensive Grey Cup Most Valuable Player award in the 1980 and 1982 games. In his final CFL season of 1983, Moon threw for a league record 5,648 yards, and won the CFL's Most Outstanding Player Award.. Throughout his CFL career, Moon amassed 1,369 completions on 2,382 attempts (57.4 completion percentage) for 21,228 yards and 144 touchdown passes. He also led his team to victory in 9 of 10 postseason games. He was inducted into the Canadian Football Hall of Fame in 2001. In 2006, he was #5 on a list of the 50 Greatest CFL Players presented by Canadian sports network TSN. He signed with NFL's Houston Oilers in 1984 and played in the NFL for the next 17 seasons with: 1984-1993 Houston Oilers; 1994-1996 Minnesota Vikings; 1997-1998 Seattle Seahawks; 1999-2000 Kansas City Chiefs. In his 17 season NFL career he completed 3,988 of 6,823 passes for 49,325 yards, 291 touchdowns, 233 interceptions. He had nine 3,000-yard passing seasons which was third in league history. He also had four 4,000-yard passing seasons. He was named to nine Pro Bowls, All-Pro in 1990 and, first or second team All-AFC 1988, 1989, 1990.
Career Highlights
Grey Cup Champion – CFL – Five time consecutive victories 1978 – 1982
#5 on a list of the 50 Greatest CFL Players – TSN
Hall of Fame – CFL and NFL
Nine Pro Bowls
All-Pro in 1990
1st or 2nd team All-AFC 1988, 1989, 1990