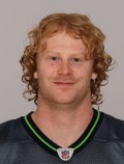 Jon Ryan
Seattle Seahawks 2014 Super Bowl Champion
ShareAdd To My FavoritesPrint Profile
Why Wait?
If you are interested in me for your event send a message.
Find out my availability, price, and additional information to help you decide.
Send Message
Profile
Jon Ryan was drafted in the 4th round, 24th overall in the 2004 CFL draft by the Winnipeg Blue Bombers. Jon made the Blue Bombers in his rookie year. In his second season he posted a 50.6 yard punting average and a net punting average of 42.3, both all-time CFL records. As well Jon was nominated for Outstanding Canadian and Outstanding special teams player.
In 2006 Jon signed with the Green Bay Packers. He is only the third Saskatchewan native to make it to the NFL, following Arnie Weinmeister and Rueben Mayes. After the 2006 season Jon was selected by his teammates to receive the Ed block Courage Award which is awarded annually to one player on each team and is considered to be one of the most prestigious awards an NFL player can receive. In 2007 Jon played in all 16 regular season games and both playoff games including the NFC championship game which the Packers lost in overtime.
Five days before the start of the 2008-2009 season Jon was released by the Packers. Less than a week later he signed with the Seattle Seahawks. In Week 8 against the San Francisco 49ers, he kicked a 63 yd punt, a 60 yd punt and a 55 yd punt. He had a great 2008 season Jon averaged 45.6 yards per punt which is the highest average in Seahawks history. Entering this season Jon's career average of 44.9 yards per punt is good for 6th in the history of the NFL. In his Week 6 game of the 2009-2010 NFL season, he threw a 42 yard pass against the Arizona Cardinals to garner a 119 QB rating for the season. He was also named a Pro Bowl alternate for his fantastic 2009 season. In the 2013-2014 season the Seattle Seahawks won the Super Bowl. On February 2, 2014, Ryan became the first player from Saskatchewan to win the Super Bowl. He also became the first former CIS player to win a Super Bowl.
Early Years
Jon started playing football in the Regina Minor Football (RMF) system at just 7 years old. Jon later attended Sheldon-Williams Collegiate where he played just one season of high school football. In that season, as a running back, kicker, punter, and returner Jon helped the Spartans to a city and provincial championship and was named to the city all-star team as punter and named team MVP.
After High school Jon stayed in his home town to play for the University of Regina Rams and legendary head coach Frank McCrystal. In his 4 years with the Rams Jon was named to the Canada West All-star team as a punter 3 times and once as a receiver, named first team All Canadian as a punter twice and named team MVP after his last season. During his sophomore season with the Rams, he caught a 109 yard touchdown pass, and led the team in receiving, in addition to his kicking duties. After his fourth year with the Rams, Ryan picked up several team awards, including Best Special Teams Player, Top Scorer and Most Valuable Player. He was also named a first team Canada West All-Star, and a CIS All-Star. Ryan also ran track for the University of Regina. In track he did sprints.
Career Highlights
Career information
High school: Regina (SK) Sheldon-Williams Collegiate
University: Regina
CFL Draft: 2004 / Round: 3 / Pick: 24
Debuted in 2004 for the Winnipeg Blue Bombers
Professional Football Career history
Winnipeg Blue Bombers (2004–2005)
Green Bay Packers (2006–2007)
Seattle Seahawks (2008–present)
Career highlights and awards
Super Bowl Champion (XLVIII)
NFC Champion (2013)
CFL All-Star (2005)
Career NFL statistics as of Week 17, 2013
Punts 622
Punting yards 27,835
Punting yard Average 44.8
Longest punt 77