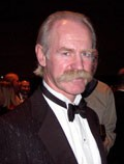 Lanny McDonald
Hockey Hall of Fame Inductee. Stanley Cup Champion. Keynote Speaker.
ShareAdd To My FavoritesPrint Profile
Why Wait?
If you are interested in me for your event send a message.
Find out my availability, price, and additional information to help you decide.
Send Message
Profile
Always a proficient scorer, Lanny McDonald, born February 16, 1953, tore up the Western Canadian Junior Hockey League as a member of the Medicine Hat Tigers. In 1971-72, McDonald fired 50 goals and collected 114 points. The following season, he contributed 62 goals and earned 139 points. That year, 1973, Lanny McDonald was the first draft choice of the Toronto Maple Leafs; the fourth selection overall. Lanny broke into the NHL in 1973-74. Lanny developed rapidly, earning 30 points as a rookie, 44 in his second season and then exploded for 37 goals, 56 assists and 93 points in season number three. The next six years in Toronto saw Lanny have great success with a competitive team, but, unfortunately they never won the Stanley Cup.
On December 29, 1979. Lanny McDonald was sent to the Colorado Rockies. Colorado was a young team struggling to make its mark in the NHL, but the veteran McDonald added both credibility and leadership. That season, Lanny finished with 40 goals and 35 assists, while in his first full season with the Rockies, McDonald scored 35 goals and had 81 points. On November 25, 1981, Lanny McDonald was shipped to Calgary.
Lanny McDonald thrived as a Flame during his eight seasons in Calgary. His team evolved into a serious Stanley Cup contender, and in conjunction with provincial rivals, the Edmonton Oilers, staged some of the great battles of recent memory. In 1982-83, McDonald enjoyed a career season, scoring 66 goals and 32 assists to lead the Flames to a second place Smythe Division finish, behind the Oilers. In 1987-88, Calgary finally got its chance to dethrone Edmonton, finishing first in the Smythe. Then, in 1988-89, the Calgary Flames not only won their division, they went on to win the Stanley Cup. No one who witnessed the final game will ever forget the massive smile beneath that monstrous moustache as Lanny McDonald skated around the ice at the Montreal Forum, hoisting the Stanley Cup for all to see.
Hanna, Alberta has recently come to be known as the home of the rock band Nickelback. But obscured in the current adulation of that band's heritage is the fact that the small Alberta town was also home to one of the finest hockey players in NHL history. Residents of the small Alberta town may be proud to lay claim to Nickelback today, but they don't have to look very far to find a hometown hero who is rock solid, Lanny McDonald.
Keynotes and Speaking Topics
Career Highlights
Stanley Cup Champion – 1989 with Calgary Flames
Hockey Hall of Fame Inductee