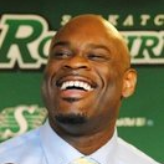 Andrew Greene
Former CFL and NFL Offensive Lineman
ShareAdd To My FavoritesPrint Profile
Why Wait?
If you are interested in me for your event send a message.
Find out my availability, price, and additional information to help you decide.
Send Message
Profile
Andrew Greene (born, in Kingston, Jamaica) is a former professional Canadian football offensive tackle. Greene, a nine-year Canadian Football League veteran, has spent much of his career with the Saskatchewan Roughriders. The four-time CFL all-star was named the league's top offensive lineman in 2003.
Andrew Greene joined the Roughriders in 1997 after spending time with the Miami Dolphins, Seattle Seahawks and Jacksonville Jaguars of the NFL. He has appeared in 116 regular season games, nine playoff games and one Grey Cup. On February 21, 2007, Greene signed as a free agent with the Winnipeg Blue Bombers, starting all 18 games for them. He even went on to play for the Bombers in the 95th Grey Cup in Toronto, only to lose to his former team, the Roughriders. On September 17, 2008, Greene signed with the Toronto Argonauts and was assigned to their practice roster. At the time of his signing, he became the oldest active player in the CFL. On January 26, 2009, Greene was released by the Argonauts. On May 25, 2009 the Saskatchewan Roughriders signed Greene after which he promptly announced his retirement showing his desire to retire as a Roughrider
Career Highlights
CFL All-Star 2000, 2003, 2004, 2005
CFL West All-Star 2000, 2001, 2003, 2004, 2005
2000 DeMarco-Becket Memorial Trophy
2003 DeMarco-Becket Memorial Trophy
2003 CFL's Most Outstanding Offensive Lineman Award
Teams
1995 Miami Dolphins
1997 Saskatchewan Roughriders
1998 Jacksonville Jaguars*
1998 Seattle Seahawks
2000–2006 Saskatchewan Roughriders
2007 Winnipeg Blue Bombers
2008 Toronto Argonauts