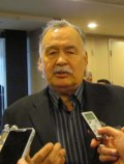 Profile
Nicknamed "The Riverton Rifle" and "The Chief", Leach was drafted third overall by the Boston Bruins in the 1970 NHL Amateur Draft. Boston traded Leach, Rick Smith and Bob Stewart to California for Carol Vadnais and Don O'Donoghue on February 23, 1972. After playing three seasons in Oakland, the Golden Seals traded Leach to Philadelphia for Larry Wright, Al MacAdam and 1974 1st Rounder (Ron Chipperfield) on May 24, 1974. He finished his NHL career with a one season stop with the Detroit Red Wings.
His best season was the 1975–76 season with the Philadelphia Flyers, when he set career highs in goals (61), points (91), game-winning goals (11), and plus-minus with a +73 rating. Leach's 61 goals earned him the goal-scoring title (now the Richard Trophy) for that season, as well as the current Flyers franchise record for most goals in a season.
He is best remembered as being one of very few players to win the Conn Smythe Trophy, as MVP of the Stanley Cup playoffs, as a member of the losing team in the final, a distinction he achieved while playing for the Philadelphia Flyers in 1976. The Flyers were defeated by the Montreal Canadiens in the 1976 final, but he won the trophy after setting a record for most goals in a single playoff season, with 19. (The record has since been tied by Edmonton's Jari Kurri although Reggie achieved this record in less games than Kurri – Reggie in 16 games and Jari in 19 games.) Leach is the only non-goaltender to win this award in a losing cause.
During that same playoff season Leach recorded a five-goal game vs. the Boston Bruins, a record he shares today with Maurice Richard, Darryl Sittler, Mario Lemieux and Newsy Lalonde. Also, his total of 80 goals for the season and playoffs together set a new NHL record which stood until 1980-81 when Mike Bossy of the New York Islanders scored 85.
He played 934 career NHL games, scoring 381 goals and 285 assists for 666 points. Reggie was also part of the Flyer's winning streak of 35 games in 1980 which is a record that still stands today, as well as the Flyer's home game winning streak of 22 games in the same year. Leach also played for Team Canada in the 1976 Canada Cup helping to win the championship. He was also a member of the NHL All-Star teams in 1976 and 1980.
Coaching career
In late 2007, Leach joined the Manitoulin Islanders of the Northern Ontario Junior Hockey League as an associate coach. In the spring of 2008, it was announced that Leach would return to Manitoulin for the 2008–09 season as the full-time head coach and director of hockey operations.
Family
Leach is of Ojibwe ethnicity, a member of Berens River First Nation in Manitoba. His son, Jamie Leach played in the NHL for parts of 5 seasons, winning the Stanley Cup with the Pittsburgh Penguins in 1991 and 1992. Reggie and his two children have all represented Canada – Reggie with Team Canada in 1976; Jamie in the World Juniors in 1989; and his daughter Brandie also represented Canada in the world Lacrosse championships in Scotland in 1991-92.
Awards and Designations
MJHL First All-Star Team (1967)
Turnbull Cup MJHL Championship (1967)
WCJHL First All-Star Team (1968, 1969, and 1970)
WCJHL Goal Scoring Leader (1968 and 1970)
WCJHL Scoring Champion (1970)
WCJHL Player of the Year (1970)
Stanley Cup championship (1975)
NHL Goal Scoring Leader (1976)
NHL Second All-Star Team (1976)
Conn Smythe Trophy (1976)
Played in the Canada Cup Tournament for Team Canada (1976)
Played in NHL All-Star Game (1976 and 1980)
Inducted into the Manitoba Sports Hall of Fame and Museum in 1997
Selected to Manitoba's All-Century Second All-Star Team
"Honoured Member" of the Manitoba Hockey Hall of Fame
Inducted into Philadelphia Flyers Hall of Fame (1992)