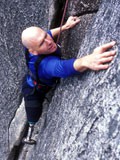 Warren MacDonald
Climbing Accident Caused Loss of Both Legs. As Seen on 'Oprah' and 'I Shouldn't Be Alive'.
ShareAdd To My FavoritesPrint Profile
Why Wait?
If you are interested in me for your event send a message.
Find out my availability, price, and additional information to help you decide.
Send Message
Profile
Professional Keynote Speaker Warren Macdonald has always had a taste for adventure. Family camping trips led to weekend hikes, than weeklong ventures into the Australian bush. His affinity with wild places, and bearing witness to their disappearance (through clear-cut logging), led him to become a committed environmentalist. What does committed mean? He was once arrested after having to be cut by an angle grinder from beneath a D9 bulldozer. The charge was dropped, by the way, but that's another story.
The same sense of adventure led to Warren becoming disillusioned with his career as a technical officer with the states (Victoria) natural gas company, leading him to do what most young Australians do at some point; go walkabout.
Travelling at first with a group of friends, then solo as they returned home, his travels took him across North America, throughout Europe (he once hitchhiked from London to Istanbul) then on to Africa. He'd initially told friends and family he'd be home in six months to a year. Two and a half years later he returned.
A back injury put the brakes on completing his accreditation as a wilderness guide and he found himself working as a painter at a five star resort in the Whitsunday Islands; part of the Great Barrier Reef. On the completion of one stage of a multi stage contract, Warren decided that what he really needed to do was 'go bush'. To throw a backpack over his shoulder and disappear for a week. He chose Hinchinbrook Island, a five hour drive north, as his destination.
Warren's life would never be the same again as a result of that decision. Climbing to the summit of the islands tallest peak, he became trapped beneath a one-ton boulder in a freak rock fall. His companion, Geert van Keulen, a Dutch traveller he'd met the day before, his only hope for survival. As Warren lay crushed, Geert raced down the mountain to get help. Warren's test of will lasted two days before a helicopter arrived, and he was rescued. The accident would cost him the loss of both legs, amputated at mid thigh.
Obviously, he survived, but Warren's story doesn't end there; far from it. Prior to the accident, being in the outdoors defined him; it was who he was, and he was very reluctant to give that up.
Just ten months later, Warren climbed Tasmania's Cradle Mountain using a modified wheelchair and the seat of his pants. A year later, in an epic 28 day journey through some of the most inhospitable terrain in Australia, he climbed Federation Peak.In February 2003, he became the first double above-knee amputee to reach the summit of Africa's tallest peak, Mt Kilimanjaro (19,222ft), and more recently, in a spectacular effort requiring more than 2800 pull-ups over 4 days, made an ascent of America's tallest cliff face, El Capitan. He is the only known above knee amputee to make an ascent of Canada's landmark frozen waterfall, the 600 ft 'Weeping Wall' in Alberta.
In short, Warren didn't just reclaim his old life; he took the basic model of it and made it bigger, better and brighter than it was before. What he wants you to know now, is you can do that too. To do so, we need to change the way we see the world. At the time of Warren's accident, guys without legs were not supposed to be out climbing mountains. By being able to see that it might be possible, and then being willing to take action to make it so, Warren created that reality. You can too.
If you can change the way you see the world, you can literally, change the world; beginning with your own.
Keynotes and Speaking Topics
Challenge of Change: Finding Opportunity in Adversity Experience Warren's authenticity and insight through an inspirational presentation with four outcomes: The ability to recognize and breakthrough mental barriers to change; Tools to turn change and challenge into catalysts for both business and personal growth; A powerful shift in thinking that will put challenges into perspective; A mindset that seeks solutions and opportunities
One Step Beyond: Setting and Reaching Impossible Goals This keynote presentation is designed to provide you with three outcomes: Reinforced understanding of the power of purpose i.e.: when we have purpose, we have an edge' ; The ability to see obstacles as stepping stones towards our goals; A clear understanding of the importance of preparation in reaching your goals
It's the End of the World as We Know it, and I Feel Fine In this keynote presentation, Warren shares the lessons and tools he's used to create a remarkable life from what many would have considered a 'game over' scenario. Outcomes include: The resilience and ability to adapt to the new economy; A sense of responsibility leading to ownership and engagement; Excitement and hope instead of fear for the future
Books and Articles
A TEST OF WILL ' One Man's Extraordinary Story of Survival. Description: The updated edition of Warren's Australian bestseller "One Step Beyond " and the inspiration behind The Discovery Channels "I Shouldn't be Alive " ' "Trapped under a Boulder " episode. A gripping tale of profound courage, strength of spirit and sheer tenacity in the face of overwhelming odds ' a story that will both haunt and inspire you from the first moment of catastrophe.