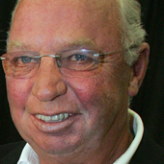 Dennis Hull
Former NHL Hockey Player, Speaker, Hilarious Emcee
ShareAdd To My FavoritesPrint Profile
Why Wait?
If you are interested in me for your event send a message.
Find out my availability, price, and additional information to help you decide.
Send Message
Profile
A self-effacing brother to Bobby and proud uncle of Brett Hull, Dennis is a fourteen year veteran of the National Hockey League, spending 13 seasons with the Chicago Black Hawks and one with the Detroit Red Wings. He played in over 1,000 games during his NHL career and was known for his powerful shot on net, which many qualified observers, including rival goaltenders, say equaled or surpassed that of his brother Bobby. Over his career, Dennis amassed 303 goals and 351 assists in the regular season and scored 33 goals and the same number of assists in 95 playoff games. Six selections to the All-Star Game are further testament to his hockey skills. His biggest thrill in hockey was the first game he played against his idol, Gordie Howe, but the most significant moment in his career came when he was selected to play for the memorable Team Canada of 1972. Following his hockey career Dennis returned to school and received his degree from Brock University in History and Physical Education. He took up a position with prestigious Ridley College as a history teacher, then moved to the position of Athletic Director at Illinois Tech., a highly rated academic university in Chicago. Dennis brings to the speaker's podium a wealth of funny anecdotes and stories from his many experiences. His understated after dinner humorous speaking style has made him one of the most sought after head table guests in the business.
Career Highlights
14-year NHL Veteran – Chicago Blackhawks and Detroit Red Wings
6-time NHL All-Star
Member of 1972 Team Canada
NHL Teams
Chicago Black Hawks
Detroit Red Wings
Books
The Third Best Hull