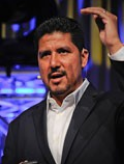 Anthony Calvillo
Top of the Game, Three Time Grey Cup Champion, Keynote Speaker
ShareAdd To My FavoritesPrint Profile
Why Wait?
If you are interested in me for your event send a message.
Find out my availability, price, and additional information to help you decide.
Send Message
Profile
Anthony Calvillo (born August 23, 1972) is a Canadian Football League quarterback, currently playing for the Montreal Alouettes. He is the all-time professional football passing yards leader and first in all-time CFL passing yards. In his career, he has passed for over 70,000 yards and is one of four professional quarterbacks to have completed over 400 touchdown passes (others include Brett Favre, Warren Moon and Dan Marino). Anthony Calvillo surpassed Damon Allen to enter into the CFL record books as the record holder for most career TD passes and most career completions. Anthony Calvillo has won three Grey Cup championships in 2002, 2009, and 2010, being named Grey Cup Most Valuable Player in 2002. He has won the CFL's Most Outstanding Player Award three times, in 2003, 2008, and 2009, which ties him for second all-time behind Doug Flutie.
Anthony Calvillo began the 2012 football season as the leading passer in the game of professional football. Follow Anthony on his unique journey as he integrates his Hall of Fame football along with personal challenges on the way.
Early life, high school and family
Calvillo was born in Los Angeles, California. While attending La Puente High School, Anthony Calvillo was a two-sport standout in football and basketball. He and his wife Alexia have two daughters.
College Career
Calvillo spent two seasons at Mt. San Antonio Junior College before transferring to Utah State University in 1992. After a solid junior year as starting quarterback, he had a terrific senior season in 1993. He set a school record with 3,260 yards of total offence in the regular season, and he also set a school record with 5 touchdown passes in a single game (he did it twice). With Calvillo leading the offence, USU won the Big West Conference championship for the first time since 1979. The Aggies finished the year with a 42-33 win over Ball State in the Las Vegas Bowl; Calvillo passed for 386 yards and 3 touchdowns to win MVP honours. It was Utah State's first-ever bowl victory.
CFL Career
Anthony started his Canadian Football League career in 1994 with the US expansion Las Vegas Posse. After the Posse folded a year later, Calvillo was selected first overall by the Hamilton Tiger-Cats in the dispersal draft. While in Hamilton, Calvillo served as a backup quarterback to players such as Steve Taylor and Matt Dunigan.
In 1998, Calvillo signed as a free agent with the Montreal Alouettes, where he became one of the most outstanding CFL quarterbacks in history. He led the Alouettes to the 2002 Grey Cup for the first time in 25 years, where he was named the most valuable player in the game. During the 2003 CFL season, Calvillo broke numerous Montreal Alouettes passing records, completing 408 of 675 passing attempts for 5,891 yards and 37 touchdowns. In 2004, he became the fourth quarterback in CFL history to pass for more than 6,000 yards in a single season (Doug Flutie, David Archer, and Kent Austin being the other three), earning him the East Division nomination for Most Outstanding Player for the third consecutive year. The 2008 CFL season saw him hit a number of career milestones. On June 26, in a game against the Hamilton Tiger-Cats, Calvillo surpassed Danny McManus to become the second-all-time leading passer in the CFL. On July 31, in another game against the Hamilton Tiger-Cats, Calvillo became the fourth quarterback in league history to reach 300 career touchdown passes. On August 15, in a game against the Toronto Argonauts, Calvillo became the second quarterback in CFL history to reach 4,000 career pass completions. Calvillo led the Montreal Alouettes to the 2008 Grey Cup final, which the Alouettes lost 22-14 to the Calgary Stampeders. Despite the Grey Cup loss, Calvillo still won the 2008 Most Outstanding Player award. In 2009, Calvillo added to his club records while reaching more CFL milestones. On July 23, 2009, he surpassed Canadian Football Hall of Famer Ron Lancaster's 334 career touchdown passes to move into second place all time. He sat out two games during the regular season, but still accumulated 4639 yards while posting a remarkable 72.0% completion rate, the second best single-season completion rate in CFL history behind Dave Dickenson's 73.98% mark set in 2005. Calvillo led Montreal to a comeback victory in the 97th Grey Cup on Nov. 29, when the Alouettes defeated the Saskatchewan Roughriders on a last-second field goal.
Calvillo won his third Grey Cup on November 28, 2010 at 98th Grey Cup in Edmonton, Alberta. He added to his record total of passing yards in Grey Cup games with 2470 yards, as well as setting the record for Grey Cup starts with eight. As of the 2010 CFL season, Calvillo is 3-5 in Grey Cup Championship Games.
In a post-game interview, he revealed that he would be undergoing off-season surgery to remove a lesion on his thyroid that was discovered after he injured his sternum during the season.On December 21, 2010, it was reported that Calvillo had successful thyroidectomy surgery to remove a cancerous lesion.
On July 15, 2011, in a game against the Toronto Argonauts, Calvillo completed his CFL record 395th career touchdown pass to 'ric Deslauriers. On August 4 of that same season, and again against the Argonauts, Calvillo completed his 5159th pass completion to Brandon London to move past Damon Allen to become the leader in that category as well. Then, on October 10, 2011, Calvillo completed a touchdown pass to Jamel Richardson to become professional football's all-time leading passer, in the Alouettes' third and final game against the Toronto Argonauts that year.
Keynotes and Speaking Topics
Raising the Bar
Accountability
One Team One Goal
Mentorship
Teamwork
Life Balance
What is your drive?
Career Highlights
2011 Pro Football record all-time leader in passing yards
2002, 2009, 2010 Grey Cup Champion
2003, 2008, 2009 CFL Most Outstanding Player
2002, 2003, 2004, 2008, 2009, 2010, 2011 East Division Most Outstanding Player
2002 Grey Cup Most Valuable Player
2002, 2003, 2008, 2009 CFL All-Star team
2000, 2002, 2003, 2004, 2006, 2008, 2009, 2010, 2011 CFL East Division All-Star team
2002, 2003, 2008, 2010 CFLPA All-Star team
2004 CFLPA East Division All-Star team
2004 Fans' Choice Award
Additional Information