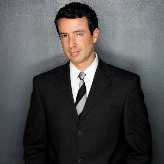 Adam Growe
Host of 'Cash Cab', & The Adam Growe Quiz Show (Live)
ShareAdd To My FavoritesPrint Profile
Why Wait?
If you are interested in me for your event send a message.
Find out my availability, price, and additional information to help you decide.
Send Message
Profile
For over 20 years Adam Growe has been performing in radio, television and on stage. He has distinguished himself as a talented comedian and host in the club, corporate and commercial media markets.
He is one of Canada's most accomplished stand-up comedians, starring in his own Just for Laughs Gala, as well as Comedy NOW! on CTV and CBC's COMICS!. Adam was also featured on Comedy Central's Premium Blend. in New York and CBS's Star Search in Los Angeles. Adam has performed at the Montreal, Vancouver, Winnipeg and Sudbury Comedy Festivals.
Adam is known as the Host of Discovery Channel Canada's, Cash Cab . As a licensed taxi driver, Adam quizzes unsuspecting passengers on trivia questions all the way to their destination. Correct answers win them cash; wrong answers could get them kicked out!
He is also touring with his one-man show, 'The Adam Growe Comedy & Quiz Showe'. In the first half, 'The Mom and Pop Shop', he plays a guy who unexpectedly has to teach a prenatal class for his wife, the actual teacher, who is running late. After intermission, Adam returns with a unique and uproarious stand-up comedy quiz show in which the audience can participate as contestants for cash prizes live on stage!
Adam appeared in two seasons of YTV's, Monster Warriors, as well as numerous acting roles in TV movies such as Shades of Black, the Conrad Black story. For many years Adam was the Host and Producer for TVO's live, on-air Membership Campaign.
After working for over a decade as an FM Radio Announcer, in recent years Adam has contributed humour segments to Laugh Attack, XM 153 and CBC Radio One's, Definitely Not The Opera.
Adam's unique background enables him to bring a distinct perspective when entertaining and coaching leadership communications programs in the corporate market. Whether they are conferences, group seminars, customer appreciation events or staff celebrations, Adam can customize his material to satisfy the occasion.
The Adam Growe Quiz Show
Adam Growe has been performing professionally for more than two decades, including the celebrated Host of Cash Cab for 9 seasons, coupled with stand-up appearances on Just For Laughs, Comedy Now! and Comedy Central's, "Premium Blend"in the US.
Test your knowledge and tickle your funny bone at a one-of-a-kind comedy show where the audience can participate as contestants live on-stage! You can Win money right out of the pocket of the host of Cash Cab on Discovery Channel! He combines comedy and trivia for a funny and unpredictable show. The Adam Growe Quiz Show is a comedy show with a trivia twist where people from the audience can win cash live on-stage. Adam performs stand-up comedy in between his signature style of humorous quiz games, which engage the whole audience with trivia and uproarious laughter. Each game is interactive for the entire audience and questions can be customized or created specifically for the performance.
Contestants are selected randomly by Adam from the stage. He will ask a question to the crowd and find someone to interact with who has gotten his attention. He will then determine whether they will be invited to the stage with a partner contestant of their choice. No one is forced to be on stage participating against their will, or "volunteered".
In each game, there are questions with a pre-determined cash value. After a series of questions, the contestants are given the option to keep what they've won or try to double it!
Comedian/Writer/Master of Ceremonies
Adam's unique background in stand-up comedy, radio, and marketing make him a trusted commodity to entertain the corporate community. His years working as an FM Morning DJ, commanding energy on stage and intelligent observations on being a father of three results in an entertaining perspective on everyday life. Adam's training and experience as a professional communicator allow him to customize his material to suit your audience.
Film, Television and Notable Live Appearances
Cash Cab Series Host Discovery Network
I Could Do That (pilot) Host Discovery/Cream Productions
Monster Warriors (2 seasons) Series Regular YTV/Wilson Coneybeare
State Within Principal BBC/Shaftesbury Films
Shades of Black Actor CTV/BBC
At The Hotel Actor CBC / Ken Finkleman
Premium Blend Featured Comedy Central
Canada AM (election rant) Featured CTV
The Toronto Show Featured Toronto 1
Star Search 2003 Featured CBS
Just for Laughs Featured CBC
Murray Maguire, M.E. Principal CTV/Vic Sarin
Comedy Now (1 hr. special) Featured Comedy Network/CTV
Open Mike with Mike Bullard Guest Appearance Comedy Network/CTV
Let's Build Host HGTV
Grumps Guest Global Television Network
Comedy Net Featured Comedy Network
COMICS! Featured CBC
That's Golf Host TSN
RADIO
Brave New Waves Featured CBC Radio
Madly Off in All Directions Featured CBC Radio
EZ Rock Morning Drive Announcer EZ Rock 97.3, Toronto
The Morning Show Announcer CKPC Lite 92.1 FM, Brantford
Network Middays Announcer MIX 105 CJMX FM, Sudbury
Up 'N Adam Morning Show Announcer HOT 103.5 FM, Brampton
STAND-UP (selected)
The Hollywood Improv Featured Hollywood
Just for Laughs Comedy Festival Featured Montreal
The Laugh Resort Headliner Toronto
Alt.Comedy Lounge Featured Toronto
Comedyworks & Comedy Nest Headliner Montreal
Absolute Comedy Festival Headliner Ottawa
Raising The Roof Gala Featured Toronto
Lafflines & The Urban Well Headliner Vancouver
The Comic Strip Headliner Edmonton
Rumors Headliner Winnipeg
The Vancouver Comedy Festival Featured Vancouver
Stanford & Sons Comedy House Headliner Kansas City
Plus various corporate functions, colleges & universities, cruises, bars...
**Winner of Just For Laughs Comedy Competition - 1999