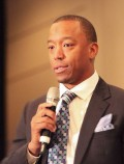 Geroy Simon
Three Time Grey Cup Champion
ShareAdd To My FavoritesPrint Profile
Why Wait?
If you are interested in me for your event send a message.
Find out my availability, price, and additional information to help you decide.
Send Message
Profile
Geroy Simon is a winner!
Geroy is a three time Grey Cup winner (2006, 2011 with the B.C. Lions and 2013 with the Saskatchewan Roughriders). He is the CFL's All-Time Leader in receptions (1029) and receiving yards (16,352), and has over 100 career touchdowns.
Using his experience from his 17 year professional football career, Geroy now brings his winning attitude and philosophy that made him successful on the field, into the corporate setting. More than a speaker, Geroy engages audiences and shares succinct, powerful stories and experiences that will guide your business, company or firm to greater levels of achievement and performance.
Geroy is also a winner in the business and philanthropic worlds. He is currently the Head Corporate Athlete for a major medical company, as well as a partner and Director of Business Development for one of western Canada's most exciting marketing, advertising and publication firms. Geroy has also touched every community he has been a part of. This year, he spearheaded the creation of The Huddle Up Foundation to support kids across Canada by embracing the power of sport. Huddle Up's first initiative was Geroy's Coats 4 Kids, a now annual coat drive that puts thousands of warm coats on kids throughout the province and eventually the country. This year, Huddle Up is also launching an exciting tuque and mitten campaign to take on the long, tough Saskatchewan winters.
Geroy believes that through a focus on performance, winner can be made of us all. Come listen to the stories of a champion.
Career Highlights
CFL's Most Outstanding Player Award in 2006
Three Grey Cup championships as a member of the BC Lions in 2006 and 2011 and with Saskatchewan in 2013.
The all-time career leader in CFL receiving yards with 16,352 yards, first in pass receptions with 1,029 and third in touchdown receptions with 103. (as of the 2013 CFL season)
In 2012 in honour of the 100th Grey Cup, Canada Post used his image on a series of commemorative postage stamps. The image was also used on presentation posters and other materials to promote the Grey Cup game and other celebrations associated with the centennial.