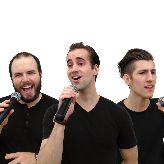 Hoja
Unique, high energy, vocals and laughter
ShareAdd To My FavoritesPrint Profile
Why Wait?
If you are interested in me for your event send a message.
Find out my availability, price, and additional information to help you decide.
Send Message
Profile
Since 1998, HOJA has energized and entertained over 3,000 audiences nationwide with their unique style of acappella-comedy and their ability to
tailor their show to appeal to different audience ages and tastes. HOJA's wonderful harmonies, funny stage banter, great audience interaction, favorite songs to sing along with, fun & energy ensure your guests have an experience they'll never forget.
Businesses across Western Canada have found HOJA's show to be a wonderful way to enhance their Staff Parties, Conferences, Client Appreciations, and Community Events.
Whether you're looking for a fun stage show to energize and entertain your guests or background music while they are arriving & socializing, HOJA can help make your event the best it's ever been by performing familiar, well-loved songs in their unique acappella style.
The repertoire & performance is tailored to the ages in attendance, whether a wide range like 20-65, mostly thirty-somethings, or even an all ages family event. HOJA is the perfect choice if you have a wide age range as few other entertainers can appeal to such a variety of tastes.
We are happy to discuss with you your thoughts on what combination of their repertoire types would best suit your audience, including:

Traditional Acappella - including acappella standards like Lion Sleeps Tonight, Coney Island Baby, Stand By Me, Brown Eyed Girl
Country Acappella - including Fishin' in the Dark, I'm in a Hurry, Something Like That, Folsom Prison Blues
70's & 80's - including Sweet Dreams, Stayin' Alive, 500 Miles, Down on the Corner
Modern Acappella - including beat-boxing & imitating instruments. Many people cannot believe the full band sound created by just three singers
using only their voices, and they even demonstrate to your guests how to do a few of the sounds for themselves!
Great harmonies, energetic choreography, comedic delivery, and a diverse selection of repertoire are presented in HOJA's uniquely entertaining, interactive, and engaging modern acappella style. All of the sounds in their live show and on their recordings are created using only their voices. Each of the members sings a variety of different voice parts, including bass lines, lead vocals, tenor and baritone parts, vocal percussion, instrument sounds such as guitars and trumpets, and assorted sound effects. Their songs span every style of music, from doo-wop to rock, country to disco.
Stage Appearances With
Wide Mouth Mason
Adam Gregory
Mike Bullard
Additional Information