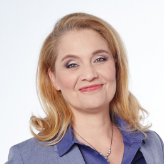 Judy Croon
Stand up Comedian, Motivational Speaker, Author
ShareAdd To My FavoritesPrint Profile
Why Wait?
If you are interested in me for your event send a message.
Find out my availability, price, and additional information to help you decide.
Send Message
Profile
Judy is a comedian, motivational speaker, radio host, Second City stand up coach and author. She has been the opening act for many celebrities including; Jon Stewart, Lewis Black, Robert Klein and Joan Rivers.
Her specials have appeared on NBC, CBS, CTV and The Comedy Network. She is a co-author of 'From the Stage to the Page: Life Lessons from Four Funny Ladies!" Judy draws from her standup performance experience to entertain, inform and inspire in her dynamic keynote entitled, 'Relieving Work Related Stress with Humour'.
Television / Film / Radio
Friday Night – NBC
48 Hours – CBS
Comedy on the Road – A&E
Comics – CBC
Comedy Now – The Comedy Network
Uncensored – Laugh Attack – XM Satellite Radio
The Humble Howard Show – Mix 999 Toronto
Notable Live Appearances
Just For Laughs – Montreal
Molson's Comedy Festival – Toronto
Toyota International Festival – New York
Keynote
Title of topic:
'Relieving Work Related Stress with Humour' keynote
Overview of presentation:
Stress is a major cause of most illnesses, and humour is an amazing way to relieve it. Harvard studies show that when you are stressed, your brain shrinks. However, when you laugh, you relax; and when you relax, you learn. This hilarious and inspirational session explores seven stress-relieving ingredients: a positive attitude, perseverance, forgiveness, teamwork, family and friends, mental activity and physical activity.
Objectives:
How to cope with information overload
How to appreciate the incredible medical benefits of humour
Discover how happiness is a mindset
Increase your chances of surviving a heart attack by five times and increase your lifespan and quality of life by laughing
Increase your brain's reasoning and decision-making
Learn the surprising key to motivation and the most important gift you can give your child.