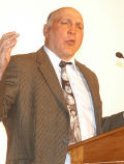 Dave 'Tiger' Williams
Former NHL Great
ShareAdd To My FavoritesPrint Profile
Why Wait?
If you are interested in me for your event send a message.
Find out my availability, price, and additional information to help you decide.
Send Message
Profile
While most dominant images of Tiger Williams likely include him sitting in the penalty box, he had an offensive scoring talent which often went overlooked due to his penchant for pugilism. Tiger Williams was chosen 31st overall in the 2nd round of the 1974 NHL entry draft by the Toronto Maple Leafs. Tiger Williams was also a 3rd round selection, 33rd overall, of the Cincinnati Stingers of the WHA, but Tiger's dream was to play in the NHL. Tiger Williams played four full seasons in Toronto and parts of two others, where he became a huge fan favourite. Along with his many entertaining skirmishes with other notable NHL tough guys, Tiger Williams also brought the fans out of their seats, when, after scoring a goal, he would ride his hockey stick down the length of the ice, much to the annoyance of the opposing players. Tiger Williams averaged nearly 20 goals a year, and had his best year in 1980-81 with the Vancouver Canucks, when he netted 35 goals and 27 assists. That year Tiger Williams represented Vancouver in the All-Star game. After a little more than four years with the Canucks Tiger Williams moved on to play in 55 games with the Detroit Red Wings, where his penalty minutes continued to dominate the stats sheet, but his offensive production tailed off considerably. The next stop for Tiger Williams was the Los Angeles Kings. Tiger Williams had two reasonably productive years for the Kings, scoring 49 and 34 points in the 1985-86 and 1986-87 campaigns. True to form, Tiger Williams continued his long-standing friendship with the penalty box, spending 320 and 358 minutes in the box during those two seasons. The final NHL destination for Tiger Williams was Hartford, where he appeared in 26 games for the Whalers in 1987-88, scoring six goals and 87 penalty minutes. At the age of 34 Tiger Williams retired from the NHL. When all was said and done in a 14-year NHL career, Tiger Williams was the league's all-time leader in penalty minutes with 3,966. He also collected an additional 455 minutes during the playoffs. Tiger Williams final NHL statistics are as follows: 962 regular-season games played, 241 goals, 272 assists for a total 513 points and a record 3,966 minutes in penalties. Tiger Williams appeared in 83 playoff contests, scoring 12 goals and 23 assists.
Career Highlights
Career Records
Record for most penalty minutes (3,966) when he retired in 1988