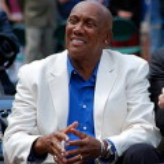 Ferguson Jenkins
First Canadian MLB player to be inducted into the Baseball Hall of Fame
ShareAdd To My FavoritesPrint Profile
Why Wait?
If you are interested in me for your event send a message.
Find out my availability, price, and additional information to help you decide.
Send Message
Profile
Canada's first Hall of Fame member, Fergie Jenkins used pinpoint control and effectively changed speeds to win 284 games. Cast in the same mold as finesse artists like Catfish Hunter and Robin Roberts, Jenkins forged an impressive 3.34 ERA despite playing 12 of his 19 seasons in hitters' ballparks —— Wrigley Field and Fenway Park. A diligent workhorse, Jenkins used an easy, uncomplicated motion to reach the 20-win mark seven times and capture the National League Cy Young Award in 1971.
Did you know … that control artist Fergie Jenkins is the only member of the 3,000-strikeout club to have surrendered fewer than 1,000 walks?
Ferguson Arthur "Fergie" Jenkins, Jr., is a Canadian former Major League Baseball right-handed pitcher. He was a three-time All-Star and the 1971 National League Cy Young Award winner. In 1991, Jenkins became the first Canadian to be inducted into the Baseball Hall of Fame. During a 19-year career, he pitched for four different teams, spending the majority of his career with the Chicago Cubs. Jenkins also played basketball in the off-season as a member of the Harlem Globetrotters, from 1967 to 1969.
Jenkins was born and raised in Chatham, Ontario, the only child of Ferguson Jenkins, Sr. and Delores Jenkins. His father, a chef, immigrated from Barbados, while his mother was a descendant of American slaves who escaped through the Underground Railroad, before settling in Southwestern Ontario. Both of his parents were good athletes; his father was an amateur boxer and semi-pro baseball player. A natural athlete, Jenkins competed in track and field, ice hockey, and basketball in his school years, lettering five times. When he began playing bantam baseball in his teens, he started out as a first baseman. He honed his pitching skills by throwing pieces of coal from a local coal yard. He was also encouraged to continue working on his pitching by Gene Dziadura, a former shortstop in the Chicago Cubs minor league system, and a Philadelphia Phillies scout. Many training sessions between the two followed until Jenkins graduated from high school.
Career Highlights
In 1991, Jenkins became the first Canadian to be inducted into the Baseball Hall of Fame
Three-time All-Star
1971 National League Cy Young Award winner