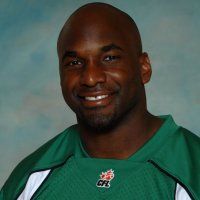 Darian Durant
CFL Quarterback, Two Time Grey Cup Champion
ShareAdd To My FavoritesPrint Profile
Why Wait?
If you are interested in me for your event send a message.
Find out my availability, price, and additional information to help you decide.
Send Message
Profile
Darian Durant has a tattoo on his left biceps reading "Against all odds – I'm gonna shine", which Durant believes explains his life. Durant's teammates and coaches describe him as a fierce competitor, who battles through injuries and illnesses.
Darian Durant is a professional Canadian football quarterback currently playing for the Saskatchewan Roughriders of the Canadian Football League. He played college football at the University of North Carolina. After his college career, he held school records for completion percentage, touchdowns, passing yards, total offense and completions. Durant was signed as a free agent by the Roughriders in 2006, and became the club's full-time starting quarterback in 2009. He was named a CFL West Division All-Star in 2009 and 2013.
The 2013 season was arguably the best season of Durant's career. He set career highs in touchdowns, with 31, while limiting his interceptions to only 12. He began the year having attempted 212 consecutive pass attempts without being intercepted joining Dave Dickenson and later Ricky Ray as the only quarterback in CFL history to start 7 consecutive games without throwing an interception. He also set a career high for passer rating with 95.7 He led the Riders to an 11-7 record and home-field in the Western Semi-Finals against the BC Lions where several of his rushing plays won the game for the Riders.
After beating Calgary in the Western Final, Durant led the Riders to their fourth Grey Cup championship on their home turf at Mosaic Stadium.
Career Highlights
Two-time Grey Cup champion: 2007, 2013.
Named West Division All-Star: 2009, 2013.
Riders nominee for Most Outstanding Player: 2009, 2010.
Led the league in touchdown passes with 31 in 2013.
Led the league in passing yards with 5,542 in 2010.