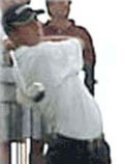 Geoff Ogilvy
PGA Tour Player
ShareAdd To My FavoritesPrint Profile
Why Wait?
If you are interested in me for your event send a message.
Find out my availability, price, and additional information to help you decide.
Send Message
Profile
With an impressive family history, (Scotland's King Robert the Bruce and Sir Angus Ogilvy), Geoff Ogilvy is also interested in the history of golf. His own golf history began at age 7, when his father gave him a cut-down club. By age 16 he had a scratch handicap. He played full-time amateur golf before turning pro in 1998. As an all-around athlete, Geoff won many medals at the state and national levels.
In 2001, Geoff tied for 2nd at the Honda Classic on the PGA Tour, and 3rd at the Touchstone Energy Tucson Open. His 2000 European Tour finishes include placing 2nd in the Johnnie Walker Classic (Tri-Sanctioned event Asian, Australasian & European Tours), tying for 14th at the Benson & Hedges Int. Open, and 6th at the Deutsche Bank ' SAP Open. He tied for 8th in the 2000 Australasian Tour Canon Challenge. At the 1999 Volvo Scandinavian Masters on the European Tour, he placed 3rd and broke the existing course record by three strokes in his 2nd round.
As an Amateur, this Australian native placed 1stin the 1998 Tasmanian Open. He was named 1997 Australian Golf Digest Amateur of the Year, 1997 Victorian Amateur Champion, and 1996 German Amateur Champion. From 1995-98 he was a full scholarship holder with Vic Institute of Sport, where he was a member of the Vic State Team from 1995-97, when he was captain.
Career Highlights
1998/99 Australian PGA Tour Rookie of the Year
1997 Australian Golf Digest Amateur of the Year
2000 Loch Lomond Tournament ' 1st Hole in One on 11th Hole (215 meter par 3)