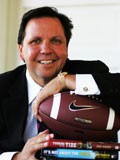 Don Yaeger
Award-Winning Speaker, New York Times Best-Selling Author. Associate Editor Sports Illustrated
ShareAdd To My FavoritesPrint Profile
Why Wait?
If you are interested in me for your event send a message.
Find out my availability, price, and additional information to help you decide.
Send Message
Profile
As an Award-Winning Keynote Speaker, Business Leadership Coach, New York Times Best-Selling Author and longtime Associate Editor for Sports Illustrated, Don Yaeger has fashioned a career that spans over two decades. He has worked with audiences as diverse as Fortune 500 companies and Cancer Survivor Groups, where he shares his personal story. He is primarily sought-out for his lessons on achieving greatness, learned from first-hand experiences with some of the greatest sports legends in the world. Additionally, Don has been engaged as a Media Trainer to countless high-profile athletes, business leaders and elected officials. Throughout his writing career, Don has developed a reputation as one of America's most provocative journalists and has been invited as a guest to every major talk show ' from Oprah to Nightline, from CNN to Good Morning America.
Television / Film / Radio
Oprah
Nightline
CNN
Good Morning America
Keynotes and Speaking Topics
What Makes the Great Ones Great Don has had a front-row seat with some of the greatest winners in athletics. They are legends in their own right, but does anyone believe the athletes mentioned above are really the GREATEST athletes of their time, physically? Remember, Jordan wasn't even the first pick of the draft. O'Neal didn't make his high school varsity team until he was a junior. Payton had to go to a small black college because bigger schools didn't want to risk a scholarship on him. Connors, at 5-10, 155 pounds, was dwarfed by most of his competitors. But each became a champion through strengths and skills that had nothing to do with physical prowess.
Using rich, personal accounts gathered from more than 20 years of interviews with many of today's sports legends and business leaders, Don has distilled Sixteen Consistent Characteristics of Greatness. He will share with the audience these characteristics – in how they think, how they prepare, how they work and how they live ' that truly make the great ones great. Then he'll explain how every audience member can apply these characteristics to their personal and professional lives.
Don works with every organization to customize his presentation by determining which characteristics and stories to discuss. Depending on the theme of your event and the needs of the audience, he may choose to tell the story of John Wooden and how he demonstrated the Value of Association or how Michael Jordan showed him that hating to lose is more important than loving to win, among many others.
Building Your Personal Brand Everyone recognizes the value of a brand. In fact, BusinessWeek magazine once said that Coca-Cola's brand alone is worth $67 BILLION. But you don't have to be a Fortune 500 company to be a brand. Today, in the Age of the Individual, every one of us is a brand. And, just as executives at Coca-Cola must do, it is your responsibility to increase your brand value daily.
The first step is understanding and defining your brand – skills for which Don Yaeger has developed a national reputation. Don's company has been asked to work with some of the most famous athletes in the world of sports – including the #1 draft pick each of the last 3 years in the NFL drafts and 2008's #1 draft pick in the NBA ' to define and nurture their brand.
Institutional Reputation Management Don Yaeger, a four-time New York Times best-selling author, major newspaper veteran and former Sports Illustrated associate editor, has covered some of America's most challenging stories over the last two decades. This session will cover everything from tips on how to create a well of good will with today's media to developing a communications plan to guide you through any potential crisis.
When the Media Comes Calling In today's age of instantaneous communication, companies and individuals alike need to be more knowledgeable than ever when it comes to media relations. If a member of the press contacts you, will you be ready for that call? How will you react when a question comes your way that you weren't expecting? And what if you actually want to tell your story? Is there a trick to getting a reporter to see your story as worth telling? Don Yaeger has developed a national reputation for answering these questions. His expertise has been sought out by countless high-profile athletes, business leaders and elected officials.
As a New York Times bestselling author and former associate editor of Sports Illustrated, Don has been on both sides of the microphone. He has conducted interviews around the globe and has been interviewed on countless national television and radio shows about his work. His 20-plus years of experience gives him the qualifications to teach you how to win the battle between a professional interrogator and an amateur respondent.
Books and Articles
Greatness – What Makes The Great Ones Great
Turning The Tide
It's Not About The Truth
Never Die Easy
Tarnished Heisman
Pros and Cons
Shark Attack
Undue Process
Sole Influence