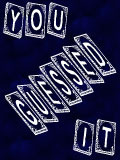 You Guessed It
A Hilarious Live Comedy Game Show.
ShareAdd To My FavoritesPrint Profile
Why Wait?
If you are interested in me for your event send a message.
Find out my availability, price, and additional information to help you decide.
Send Message
Profile
Looking to add a new dimension to game play? You Guessed It puts the game right in the players hands with next to no set-up time needed. You Guessed It is mostly a trivia based game based on zany knowledge found in hillarious bathroom reader type books. It incorporates elements that no other of our gameshows have; charades, doodling, card games, word puzzles, full table challenges, rock paper scissors, musical chairs, name that tune, pricing games & more!!! This game has so many unique, fun and fully immersive elements that it is more of an event than a game show.
William James has been working on and building this gameshow concept & game play for over 5 years!!! He has always wanted to create the most immersive game that would involve every person at an event instead of always dividing the room into 2 or 3 teams of people. With 'You Guessed It' he has done just that!!! We are super excited about this newest installment as it truly is the most immersive game show to date, providing a very entertaining event for every person, for any occasion, of any group size and for any timeframe!!!