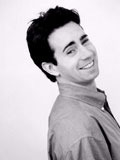 Winston Spear
Award winning stand-up Comedian
ShareAdd To My FavoritesPrint Profile
Why Wait?
If you are interested in me for your event send a message.
Find out my availability, price, and additional information to help you decide.
Send Message
Profile
Winston Spear is a unique comedian with a deep deadpan delivery who has been called the King of the Obscure. Although his slightly disturbed sensibility makes him a sure-fire hit, there is a certain charisma that endears Winston Spear to audiences when he performs. He is a regular cast member and staff writer on CTV and The Comedy Network's hit sketch show Comedy Inc., now in its fourth season, which also airs on Spike TV.
Winner of the Canadian Comedy Award for Best Stand-up Comic in 2003, Spear has been performing in comedy clubs and festivals throughout North America for more than a decade. In fact, comedy once took him to the United Arab Emirates to perform. He's appeared a number of times at the Just For Laughs Festival in Montreal, the Vancouver International Comedy Festival, and was at this years Halifax Comedy Festival. Winston refers to his ability to incorporate physical comedy into his act as "comedic modern dance." For the past six years, Spear has been the resident host of the ALT.COMedy Lounge, a hip alternative showcase for comedians in Toronto.
Winston's experience extends into a variety of television and film projects. He has been featured on Comedy Now!, Comics!, Open Mike with Mike Bullard and, with his sketch troupe Lame & Shooster, on SketchCom. Winston has also written and performed his own video shorts entitled Crack Doll House being featured on sketch series The Bobroom on The Comedy Network. Winston has also been a guest star on CBC's long running Air Farce, The Holmes Show, as Winston the Cellar Dweller on the 6-part series The Sean Cullen Show and on Toronto 1's The Toronto Show.
Notable Live Appearances
Just For Laughs International Comedy Festival – Montreal
Winnipeg Comedy Festival
Vancouver International Comedy Festival
Halifax Comedy Festival
Awards and Designations
Canadian Comedy Award for Best Stand-up Comic in 2003
Career Highlights
Comedy Inc. – The Comedy Network – Staff writer