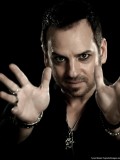 Tyzen
Direct From Las Vegas! Clean Comedy 'Hypnosis That Rocks!'
ShareAdd To My FavoritesPrint Profile
Why Wait?
If you are interested in me for your event send a message.
Find out my availability, price, and additional information to help you decide.
Send Message
Profile
TYZEN's "Hypnosis That Rocks" comedy hypnosis show generates a highly entertaining performance where audience members are transformed into the STARS! He interacts with his volunteers and incorporates a generous dose of standup improv comedy. Every show is a unique experience for audiences of all ages and especially repeat show attendees. Tyzen is not only a hypnotist, he's a very clever and quick comedian. He has the ability to be diverse and spontaneous which causes a classic hypnotic show to become a ROCK CONCERT without all the loud music!
From the first moment that Tyzen steps on the stage, you have no doubt this man was born to entertain…. and entertain he does! Tyzen was born, raised, in Winnipeg, Manitoba, Canada, currently he resides in Las Vegas, but, his true home is on the stage. Tyzen began his entertainment career after being inspired by watching David Copperfield on TV. He performed as a Magician and Illusionist for 11 years prior to discovering Hypnosis. Tyzen studied the Art of Suggestion intensively before making the decision to focus his career in this direction, and to bring this talent to the stage.
He has since immersed himself into Hypnosis and perfected his talents to point where, with great pride, he is now compared to World-Class Entertainers such as Reveen. Tyzen is a true professional who takes the Art of Suggestion very seriously and executes it with the utmost respect and integrity. This skilled performer has delivered performances since the age of 15 and always promises a smooth flowing, knock-em dead stage act.
Tyzen's acting abilities include a wide variety of impersonations and accents that lend his own special charm to his performances. He interacts with his volunteers with a natural ease, and his own genuine laughter shows how much he truly enjoys people, and his chosen career! He is respected as one of the classiest stage hypnotists and vows never to lower his standard of good clean entertainment.