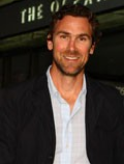 Trevor Linden
NHL Hockey Great. Successful Businessman. Humanitarian. Keynote Speaker.
ShareAdd To My FavoritesPrint Profile
Why Wait?
If you are interested in me for your event send a message.
Find out my availability, price, and additional information to help you decide.
Send Message
Profile
Since retiring from hockey on June 11, 2008 – the 20th anniversary of his draft day – Trevor Linden has entered the business world with as much commitment and enthusiasm as he displayed as an athlete. To date, Linden's life-after-hockey career includes real estate development and now a fitness club venture. He has also continued to dedicate himself to his long-term commitments in the community.
Linden played the majority of his 20-year career with the Vancouver Canucks and continues to be regarded as a heroic and endearing leader to hockey fans and the public. He has earned this respect by exhibiting a tireless commitment to his team and the community of British Columbia. Linden has been honoured for his efforts by being named a recipient of the Order of British Columbia in 2003 and he was recently named to the BC Hockey Hall of Fame in 2010.
Linden retired with 867 career points (375-492-867) in 1382 regular season games with the Vancouver Canucks, Montreal Canadiens, New York Islanders and Washington Capitals. In addition, he was a proven playoff performer. In 124 Stanley Cup Playoff games he recorded 99 points (34-65-99), highlighted by his 25 points (12-13-25) during the Canucks' 1994 Stanley Cup run. In addition to appearing in two NHL All-Star Games, Linden was a member of the 1998 Canadian Olympic team and participated in the 1996 World Cup of Hockey. He also served as the President of the NHL Players' Association from 1998 to 2006. Before being drafted by the Canucks in 1988, Linden helped the WHL's Medicine Hat Tigers win consecutive Memorial Cup championships.
Linden's dedication to the community has been well documented. He has received numerous accolades including the King Clancy Memorial Trophy for leadership on the ice and humanitarian contributions off the ice in 1997 and the NHL Foundation Player Award in 2008. His on-going efforts to support children and families have seen him participate with organizations and important causes such as the Zajac Ranch, Canuck Place, BC Children's Hospital, the Ronald McDonald house, the Canadian Cancer Society, the BC Sports Celebrities Festival, the Michael Cuccione Foundation's Skate for a Cure and the Terry Fox Family's fundraiser. Through his foundation, the Trevor Linden Foundation, hehas granted more than $650,000 to Canadian Cancer Society's Camp Goodtimes, a camp for children and their families living with cancer located in Mission, BC. These funds were used to construct a gymnasium that was named in his honour.
Linden's post-hockey career and interest in fitness has also seen him develop a passion for cycling. Most notably, he competed in the Trans Alp bike race in the summer of 2007, a 600 km race across the European Alps. Linden and racing teammate John Ramsden finished 48th out of the 122 competing two-man teams over the eight-day competition.
Career Highlights
BC Hockey Hall of Fame in 2010
Recipient of the Order of British Columbia in 2003
King Clancy Memorial Trophy – for leadership on the ice and humanitarian contributions off the ice