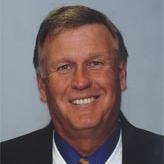 Tommy John
Baseball Legend, Four Time All-Star
ShareAdd To My FavoritesPrint Profile
Why Wait?
If you are interested in me for your event send a message.
Find out my availability, price, and additional information to help you decide.
Send Message
Profile
Tommy John, born on May 22, 1943 in Terre Haute, Ind., proved to the baseball world that serious physical problems do not necessarily drown the spirit of a true competitor.
Despite rough beginnings and setbacks along the way, John eventually became one of the most well-known and inspiring Major League Baseball pitchers of all time. John's young age of only 20 years old at his major league debut for the Cleveland Indians on Sept. 6, 1963, caused him to struggle throughout his first two seasons as a pitcher. He went 0-2 for the Indians in 1963 and was 2-9 in 1964. After two years of disappointment, he was traded by the Indians to the Chicago White Sox.
Over the course of the next seven seasons, John became a left handed control artist for the Chicago White Sox until his trade to the Los Angeles Dodgers in 1972. During his 1974 season, John permanently damaged the ulnar collateral ligament in his pitching arm, and a miraculous revolutionary surgical operation was performed. The operation, widely known today as Tommy John surgery, replaced the ligament in the elbow of his pitching arm with a tendon from his right forearm. The surgery was performed by Dr. Frank Jobe on Sept. 25, 1974. John spent the entire 1975 season recovering from the surgery, and surprised fans and players alike by returning to the Dodgers rotation in 1976.
John went on to pitch until 1989 and earned 164 of his 288 victories after his surgery. According to the Elias Sports Bureau, John retired at 23rd on the all-time win list, sixth in games started, 17th in innings pitched and 26th in shutouts. In 1976 he was given the National League Comeback Player of the Year Award by The Sporting News and he remains the winningest pitcher in Major League Baseball history not to be elected into the Hall of Fame.
Many players, including both Kerry Wood from the Chicago Cubs and John Smoltz from the Atlanta Braves, have benefited from Tommy John surgery, as the once revolutionary and experimental surgery has now become routine.
In 1975, John was awarded the Hutch Award for displaying honor, courage and dedication to baseball both on and off the field. Despite the physical challenges, one of John's most notable achievements was the fact that he played for over 26 years, including stints with the Yankees, Dodgers, Angels and White Sox. He had three 20-win seasons, appeared in four All-Star games and played in four World Series.
Career Highlights
4× All-Star (1968, 1978–1980)
Teams
Cleveland Indians (1963–1964)
Chicago White Sox (1965–1971)
Los Angeles Dodgers (1972–1974, 1976–1978)
New York Yankees (1979–1982)
California Angels (1982–1985)
Oakland Athletics (1985)
New York Yankees (1986–1989)