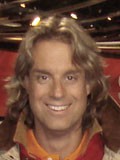 The Green Earth Doctor – Dr. Reese Halter
Award Winner, Seen on MSNBC, Author of 8 Books, Professional Speaker
ShareAdd To My FavoritesPrint Profile
Why Wait?
If you are interested in me for your event send a message.
Find out my availability, price, and additional information to help you decide.
Send Message
Profile
The Green Earth Doctor – Dr Reese Halter. Respect and Protect Our Planet
The Green Earth Doctor – Dr. Reese Halter is an award-winning communicator, distinguished conservation biologist, sought after public speaker, blogger, and author of 8 books. Over two and a half decades ago, he founded Global Forest Science ' a conservation institute that protects fragile ecosystems, short circuits ecological disasters and produces ecological education for children around the globe. He believes that by following Nature's blueprint we as a society can significantly reduce our global footprints on this exquisite blue planet.
The Green Earth Doctor – Dr. Reese Halter also fervently believes that 'all pollution and all waste are lost profit.' And that by following Nature's blueprint individuals, small businesses, colleges, corporations and governments can significantly reduce their operating costs, erase their footprints thereby becoming environmental champions. Humans were designed to solve problems; in fact, he believes that for every problem there are at least THREE solutions."
Keynotes and Speaking Topics
The Green Earth Doctor – Dr. Reese Halter speaks on: low-carbon economies; sustainability; agriculture; water; waste-water; green energies; wealth management; organics and going green; and making money in a green economy. Dr. Reese Halter will customize his keynote session to address any topic in the green environmental economy for conferences, businesses, government, communities, and educational institutions.
Books and Articles
Wild Weather – The Truth Behind Global Warming
The Incomparable Honeybee and the Economics of Pollination
The Insatiable Bark Beetle
Value of British Columbia's Old Growth Forests – Victoria Times Colonist
Rapid Decline of Honeybees – Sacramento Bee
General Electric and Google: Smart Future – Santa Monica Daily Press
Awards and Designations
Dr. Reese Halter is the recipient of the President's Distinguished Service Award from Humboldt State University for his inimitable leadership in conservation biology.
Gold Medal Award for Conservation from the Daughters of the American Revolution for his outstanding environmental awareness achievements throughout the United States of America and the Western Hemisphere.