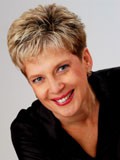 Terri Knox
Balance Inside and Out
ShareAdd To My FavoritesPrint Profile
Why Wait?
If you are interested in me for your event send a message.
Find out my availability, price, and additional information to help you decide.
Send Message
Profile
Terri Knox has accumulated a wealth of experience while dealing with the public in her 22 years in the airline industry. Terri was the coordinator of Education and Training for the Tourism Industry. Nominated Female Entrepreneur of the Year, Terri's successful company, has been bringing inspirational keynotes and seminars to a wide variety of clients of every sector across North America. Terri is an insightful, innovative and high energy speaker, author, trainer, and life coach who will challenge you with tools such as introspection and humor to live each day with passion and purpose as you journey on your road to self discovery and enlightenment; learning to maximize your unique potential on both a personal and professional level. Her major areas of expertise are: personal development, achieving work life balance, self-image, team-work and customer relations.
Keynotes and Speaking Topics
BALANCE… INSIDE AND OUT – Are you juggling everything in your life? Do you feel like you are dropping more balls then you keep in the air? Dropping some balls is okay, but some are crystal and will not bounce! Having a roadmap to follow your dreams and attain your goals, while living with less stress and greater focus is a dream for most. Terri's intensive presentation will accelerate success personally and professionally. Tap dancing in life trying to be everything to everybody robs us of energy and focus! Connecting to our limitless potential is essential. Included in Terri's session are proven tools, tips and strategies designed to turn on every individuals internal 'success magnet'! This innovative program or keynote is developed to fit with the reality of our day-to-day challenges and busy lives. Terri's energy, enthusiasm, commitment, and sincerity will be key to enabling participants to walk away with the sense that you have invested in YOU!
Books and Articles
"Your're The Boss… of You!"