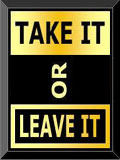 Take It or Leave It
Hilarious Comedy Game Show. A Tribute to the Hit TV Show 'Deal Or No Deal'
ShareAdd To My FavoritesPrint Profile
Why Wait?
If you are interested in me for your event send a message.
Find out my availability, price, and additional information to help you decide.
Send Message
Profile
'Take It or Leave It' is a tribute to the hit Gameshow loved by millions of North Americans, 'Deal or No Deal'. We have captured the true essence of the game, while adding full costume comedy segments to have people laughing throughout your entire event.
'Take It or Leave It' can be played individually, but primarily has been designed to be played with groups (small or large), and can be customized to fit your events' time frame. (Anywhere from 30 minutes to 2 hours is recommended.) Host William James will divide your group into two teams who will compete to see which team will make the best case selection(s) &/or the best deal(s) with the Banker, to ultimately win the prizes. Competition & teamwork are the order of the day as teams will have to play, cheer & strategize together to outsmart the Banker & the opposing team.
In 'Take It or Leave It', you will actually get to see the Banker figure out the offers & witness as each group excitedly tells their representative at the electronic scoring podium to buzz-in & 'Take It', or watch as they wave their hands crazily to 'Leave It'. Throughout the game, bonus points will be given for team participation & overall excitement. Plus, there will be more than a few opportunities to win some major points by getting dressed up in our fun comedy costume segments. Elvis anyone?
Once a winning team has been crowned, they will get to compete for prizes in our 'feel like you're really there' grand finale round, which will truly end your game with edge-of-your-seat, pulse-pounding excitement!!! William James has been a professional entertainer for over 11 years and has never been as excited to launch anything as he is now with 'Take It or Leave It'. Call now for booking information, you will not be disappointed!!!