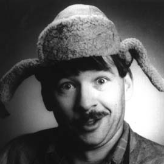 Steve Stubblejumpski
Character Comedian - Ukrainian Farmer
ShareAdd To My FavoritesPrint Profile
Why Wait?
If you are interested in me for your event send a message.
Find out my availability, price, and additional information to help you decide.
Send Message
Profile
Steve Stubblejumpski is a character that was created by Robert Saik in 1986. Who is Steve? Steve is an old Ukrainian farmer who is married to Stella and runs a mixed up farm near Double Bumps (Two Hills, Alberta). Steve is an ordinary guy trying to cope in the age of the information highway while waiting for a paved road to his farm. Steve uses good "clean" humour to entertain and get his point across on farming, travel, politics, hunting, fishing, family life, technology, and the internet.
Robert Saik (a.k.a. Steve Stubblejumpski) is the President of a consulting and technical marketing firm which works with agri-business in Canada and the northern U.S. Robert has a bachelor of science degree in Agriculture from the University of Alberta and has been a practicing Agrologist since 1983.