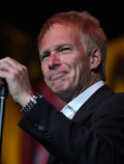 Scott Harris
Stand-up Comedian
ShareAdd To My FavoritesPrint Profile
Why Wait?
If you are interested in me for your event send a message.
Find out my availability, price, and additional information to help you decide.
Send Message
Profile
Scotts Harris's quick wit, glib manor, and slick improvisational skills are as legendary as his connection to his audience, and after eighteen years on stage, that is a connection this talented stand-up intends to keep. Always a crowd favorite, Scott Harris is recognized for his remarkable ability to connect with audiences. Once that connection is made, he quickly takes them to new heights of hilarity! From sharp political satire, to whimsical, observational, nonsense, Scott could be reporting the precarious state of world affairs one minute, and fashion do's and don'ts the next.
A regular over the past few years at the Montreal Comedy Festival "Just For Laughs" Scott Harris was nominated for "Best Standup Comedian" at the Canadian Comedy Awards and headlined the very first "Whistler Comedy Festival" in B.C
When not headlining his own shows Scott can be seen sharing the stage with such stars as Russell Peters, Tom Jones, Bruce Willis, Howie Mandel and Tommy Chong.
Scott Harris has worked in all of the entertainment mediums. He has written and performed in television commercials, acted in films and spent fifteen years as a radio broadcaster. For ten of those years (1977-1987), he held down the 6:00 p.m. to 9:00 p.m. slot on Hamilton, Ontario's Top 40 rock station CKOC. While there, Scott Harris released three successful comedy albums… Rapper's Delight, Beach Bum and Low Budget Breakdance.
Notable Live Appearances
Just For Laughs – Montreal
Stage Appearances With
Russell Peters
Tom Jones
Howie Mandel
Tommy Chong
Bruce Willis
Career Highlights
Nominated "Best Stand-up Comedian" – Canadian Comedy Awards