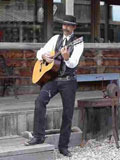 Richard Popovich
Musical Comedy, Impersonations
ShareAdd To My FavoritesPrint Profile
Why Wait?
If you are interested in me for your event send a message.
Find out my availability, price, and additional information to help you decide.
Send Message
Profile
Typically, Western Canada is not thought of as the entertainment capital of the world, however, it is exactly that for Richard Popovich. He has been earning his living entertaining Western Canadian audiences with his unique brand of humor and music for over 20 years. He is well known for his performances on the famous, Alberta Prairie 'Steam Train' at Stettler, Alberta. Richard Popovich's musical comedy shows take him everywhere from rural community centers to city concert halls. If you've ever been to Las Vegas or Branson, you'll know what to expect, as Richard's ability to entertain is cleverly combined with musical comedy impersonations, marvelous lighting and stage costumes He offers a large variety of musical styles and tastes, with a healthy dash of good clean humor thrown in to spice things up. Richard also makes a very "upbeat" and always entertaining "Emcee". Richard Popovich is very busy and entertains approximately 175 days a year, throughout Western Canada.