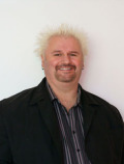 Perry James
Comedy and Magic Collide
ShareAdd To My FavoritesPrint Profile
Why Wait?
If you are interested in me for your event send a message.
Find out my availability, price, and additional information to help you decide.
Send Message
Profile
"Super Bill" Bentley's Zombie Jamboree has been touring since 1996. Bill performed over 200 shows in 1999. The Zombie Jamboree utilizes many costumes and props. The show has grown in scope to encompass well over 300 skits which make up seven completely unique and different stage shows ranging from one to three hours in length.
The shows are:
The Rodeo Show – complete with bull riders and hog callers;
The Alien Show – spending most of the time on another planet. Complete with the Aliens' first visit to Earth. Attend a true "Miss Universe Pageant". See what happens when Aliens get exposure to Earth television and various Earth animals;
Salute to the Movies Show – Full costumes recreating Jaws, The Titanic, Friday the 13th, Rocky, Apollo 13 and many more;
The Drunk Mexican Show – Using hypnotic water instead of tequila; Greatest Hits Shows 1 & 2 – Taking pieces of each of the four shows listed above, Super Bill has created two Greatest Hits shows;
The Jerry Springer Show – More adult based theme with appearances from Bill Clinton, Howard Stern, and Dr. Ruth Westheimer;
Christmas Show – A hilarious way to celebrate the season. Great for corporate Christmas parties.