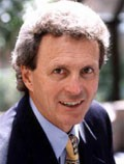 Paul Henderson
1972 Canada/Russia Series Goal of the Century, Keynote Speaker
ShareAdd To My FavoritesPrint Profile
Why Wait?
If you are interested in me for your event send a message.
Find out my availability, price, and additional information to help you decide.
Send Message
Profile
Paul Henderson, a member of the Canadian Sports Hall of Fame, became a Canadian sports legend on September 28, 1972. His goal, with 34 seconds remaining in the final game, lifted Canada to victory in the "Series of the Century", against the Soviet Union. Incredibly, Paul Henderson scored the winning goal in each of the last three games of this historic first series between the two superpowers of hockey. That magical moment in Moscow is still considered the greatest in hockey history. In 1997, on the 25th Anniversary of The Goal, Paul was immortalized on a postage stamp issued by Canada Post and a silver coin by The Royal Canadian Mint.
Today, Paul uses the lessons of leadership, teamwork and commitment he learned during the 1972 Summit Series and his 18 year professional hockey career, to motivate organizations around the world to reach their own goals. Paul begins his presentation with a brief video reliving the rush, glory and heart-pounding excitement of the '72 series. Through his sharing of behind the scenes NHL strategies, innovative insight, and humourous anecdotes, Paul correlates his own experiences to today's competitive business environment.
Keynotes and Speaking Topics
Scoring Goals in Business – The Importance of Teamwork
The Goal of My Life
The Winning Formula