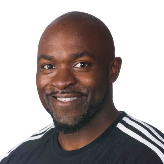 Neville Wright
Canadian Olympian, Bobsleigh. Two Appearances Sochi 2014, Vancouver 2010
ShareAdd To My FavoritesPrint Profile
Why Wait?
If you are interested in me for your event send a message.
Find out my availability, price, and additional information to help you decide.
Send Message
Profile
Neville Wright first tried his hand at bobsleigh in the summer of 2009 and less than a year later was a member of the four-man sled piloted by Pierre Lueders at the Vancouver 2010 Olympic Winter Games.
Wright's athletic career began in track and field. A sprinter, he competed at the 2007 IAAF World Championships as a member of the 4x100m relay team and won bronze in the 100m at the 2007 World University Games. But after coming up short in his attempt to qualify for Beijing 2008 he sought out a new sport.
After pushing the four-man sled to a fifth place finish at Vancouver 2010, Wright has continued to be a mainstay on the Canadian bobsleigh team, competing at 2011, 2012 and 2013 World Championships, primarily in the Canada-1 sled piloted by Lyndon Rush. At Sochi 2014 he helped push Rush to a ninth place finish in the four-man event.
Career Highlights
Sochi 2014
Vancouver 2010
FIBT World Championships: 2013 – 12th (2-man), 15th (4-man); 2012 – 7th (4-man); 2011 – 6th (4-man), 9th (2-man)