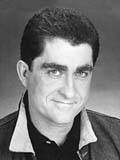 Mike MacDonald
Stand-Up Comedian
ShareAdd To My FavoritesPrint Profile
Why Wait?
If you are interested in me for your event send a message.
Find out my availability, price, and additional information to help you decide.
Send Message
Profile
Comedian Mike MacDonald, considered one of the top funny men in all of Canada, and a featured headliner at corporate events and conventions, understands the power of laughter. In 1978 at the age of 23, Mike MacDonald began to frequent clubs where he could try his own brand of stand-up comedy. As Mike MacDonald's reputation grew, so did the job offers. Mike MacDonald quit his day job in order to make his sole living from comedy. Mike MacDonald began to perform throughout Canada and made frequent forays into the United States. In addition to his successful and well received live performances all over North America, Mike MacDonald has appeared on numerous TV shows including "Late Night With David Letterman" and "The Arsenio Hall Show". Mike MacDonald has been nominated for two Gemini Awards and two Ace Awards for his comedy writing and performances. Mike MacDonald's popularity continues to skyrocket both in the United States and Canada. Mike MacDonald has hosted both the Gemini Awards and the "Just For Laughs 10th Anniversary Special" for the CBC and starred in a sitcom on that network called "Mosquito Lake". Mike MacDonald has also starred in three well received and critically acclaimed specials for the CBC in Canada and for Showtime in the U.S. His first special, "MIKE MacDONALD; ON TARGET" was the first one hour prime time special by a stand-up comic in the history of the CBC. This success led to MIKE'S next special, "MY HOUSE! MY RULES!" which also won its prime time slot when it aired in Canada and was nominated for two Gemini Awards for "Best Writing" and "Best Performance" in a comedy special. Meanwhile, the Showtime version of "MY HOUSE! MY RULES!" was nominated for two Ace Awards –"Best Comedy Special" and "Best Writing in a Comedy Special". His third Showtime special, "HAPPY AS I CAN BE", was originally slated as a half-hour show, but when executives screened the footage they immediately expanded it to an hour. "HAPPY AS I CAN BE" in its one hour format also achieved a number one rating when it aired in prime time in
Canada on the CBC.
Notable Live Appearances
Montreal Just For Laughs International Comedy Festival – Multiple Performances